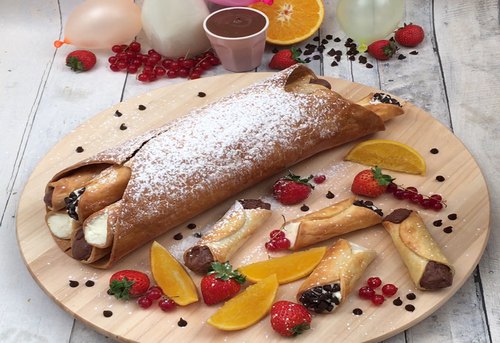 Mega Cannoli
We've supersized these incredible Italian sweet treats :)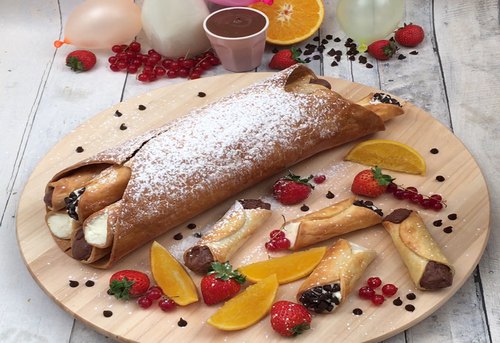 ---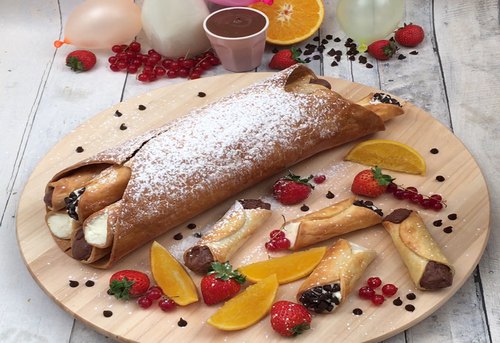 ---
Total time: 35 minutes
Prep time: 35 minutes
Ingredients for 6 people
3 sheets of puff pastry
2 egg yolks
1 cup of mascarpone
2 cups of heavy cream
1/2 cup of powdered sugar
2 1/2 tbsp of chocolate hazelnut spread
zest of 1 orange
chocolate chips
---
Tools
Sheet of cardboard (10x12 inches)
Small bowl
Electric mixer
Pastry bags
Baking sheet
Aluminum foil
Baking paper
---
Step 1/4
Roll the cardboard around a rolling pin and cover it with aluminum foil. Roll 1 of the puff pastry sheets around this cylinder and brush it with an egg yolk. Place it on the baking sheet covered with baking paper and bake in the oven for 15 minutes at 350 °F.
Step 2/4
With a small bowl, cut out as many discs as possible from the 2 remaining sheets of puff pastry. Cut strips of aluminum the same size as the discs, then roll the aluminum into a tube, and wrap the puff pastry discs around the tubes. Place the tubes on a baking sheet covered with parchment paper, brush them with egg yolk and bake them in the oven for 7 minutes at 350 °F.
Step 3/4
Whip the heavy cream with the mascarpone and 1/2 cup of icing sugar, then separate them into 2 separate bowls. Delicately mix in the hazelnut chocolate spread in one bowl and the orange zest in the other. After, place the whipped creams into the pastry bags.
Step 4/4
Fill the small cannoli with the cream, dipping some of them in the chocolate chips. Then place them all in the giant cannoli. Sprinkle the entire cannoli with powdered sugar and enjoy!