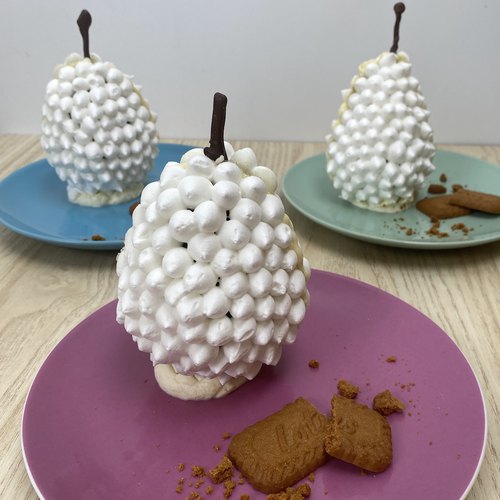 Chocolate Covered Pear
Paired perfectly with yummy meringue 🍐🍫😋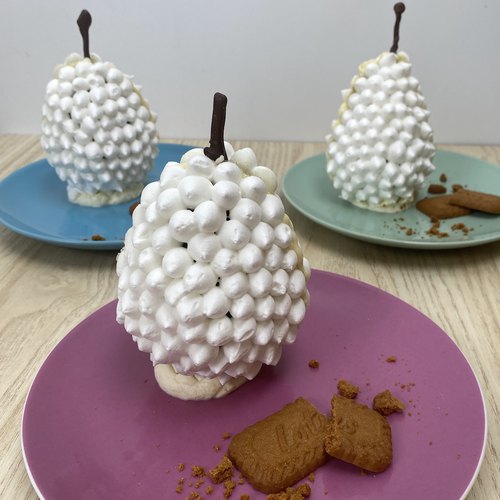 ---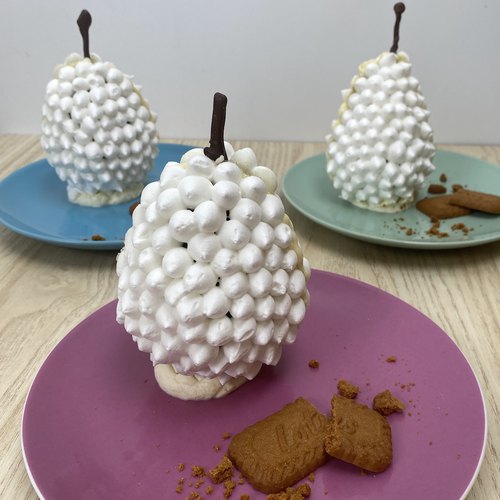 ---
Ingredients for 3 people
3 pears
3 egg whites
1/2 cup of sugar
1 1/8 cups of powdered sugar, divided
1/3 cup of mascarpone
2/3 cup of heavy cream
1/2 vanilla bean
2/3 cup of dark chocolate
2/3 cup of white chocolate
6 biscoff cookies
---
Tools
Parchment paper
Piping bag
Electric mixer
---
Step 1/4
Cut the pears in half and remove the stems. Place them upside down on a baking sheet covered with parchment paper. Beat the egg whites with the sugar and add 1 cup powdered sugar. Mix delicately with a spatula, fill the piping bag with the meringue, and cut 1 bottom corner to make points on the pear with the meringue until it covers the entire surface, making a shell. Bake for 5 hours at 215 °F.
Step 2/4
Mix the mascarpone with the heavy cream and add the remaining powdered sugar. Cut the vanilla pod in half and scrape out the seeds. Then whip the mixture with an electric mixer.
Step 3/4
Remove the meringue shell from the pears and then peel them. Place the whipped cream inside the pears and sprinkle with half of the crushed biscoff cookies. Assemble the pear halves to obtain whole pears and cover them with melted dark chocolate. Then place them in the fridge for 30 minutes.
Step 4/4
Draw 3 lines with the remaining dark chocolate using a teaspoon over ice water to harden into stems. Place chocolate pears in a meringue shell, pipe white chocolate around the edges with a pastry bag, and stick to the second shell. Place the chocolate stem on top of the pear, add a spoonful of whipped cream on the serving plate, and place the pear on top so that it stands upright. Serve with 1 biscoff cookie and enjoy!