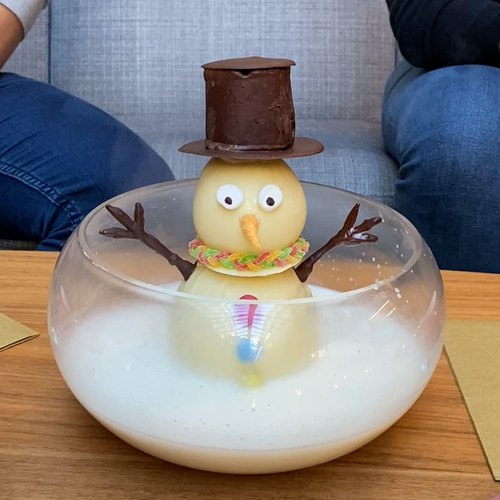 Chocolate Snowman Holiday Drink
A holiday treat that will make you melt ☃️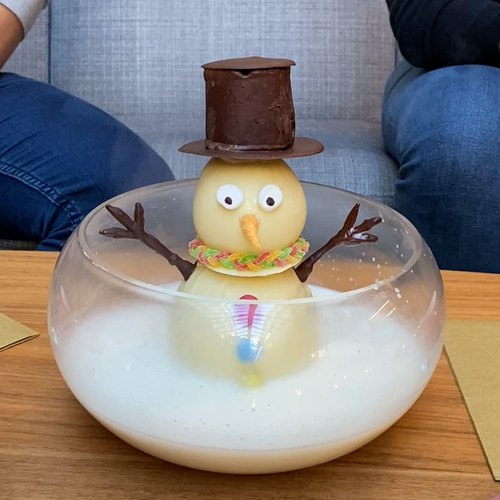 ---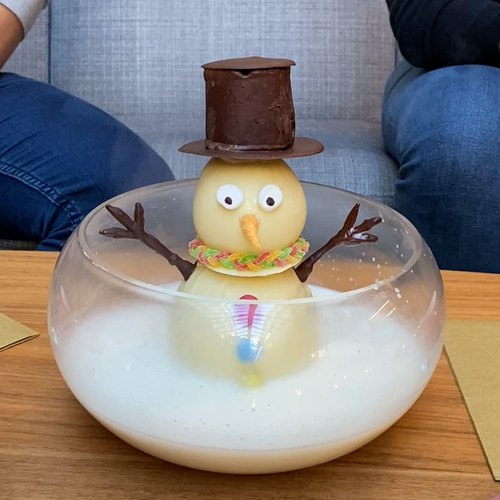 ---
Ingredients for 4 people
melted white chocolate
melted dark chocolate
cocoa powder
mini marshmallows
candy rope
soft caramel
m&ms
1/2 gallon milk
---
Tools
Balloons
Parchment paper
Small glass
Tape
Mixing bowl
Mugs
---
Step 1/6
Inflate the balloons (1 bigger than the other) and dip them in the melted white chocolate, covering completely. Let chill until hardened, then dip them again forming a second layer. Chill until hard.
Step 2/6
Cut 2 1 1/2 inch stripes of parchment paper. Cover 1 of the strips with melted dark chocolate and cover it with the second strip of parchment paper. Draw 2 discs of dark chocolate on another sheet of baking paper, one larger than the other. Wrap the strip around the small glass and tape to hold it in place. Use the melted dark chocolate to draw 2 arms with 3 fingers next to the discs. Chill until hardened.
Step 3/6
Puncture and remove the balloons in the white chocolate shells. Add the cocoa powder and marshmallows to the shells. Use melted white chocolate to glue the smaller shell on top of the large shell. Use melted white chocolate to glue the large circle on top of the small shell.
Step 4/6
Unmold the chocolate ring and peel off the baking paper. Use melted dark chocolate to glue this ring on the large disc. Fill the hat with more marshmallows inside and then stick the small disc on top to close the hat. Glue the arms on the sides of the large shell.
Step 5/6
Braid the candy and tie them between the 2 shells creating a scarf. Mold a pointed nose using the soft caramel and stick it in the middle of the small shell. Glue the M&Ms in the middle of the big shell to make the buttons. Form eyes with 1 marshmallow cut in 2 and draw the pupils with melted dark chocolate.
Step 6/6
Place the snowman in the mixing bowl. Pour the hot milk over it, mix to melt it, then serve in mugs and enjoy!
Similar recipes from Chefclub
-
Our other recipes