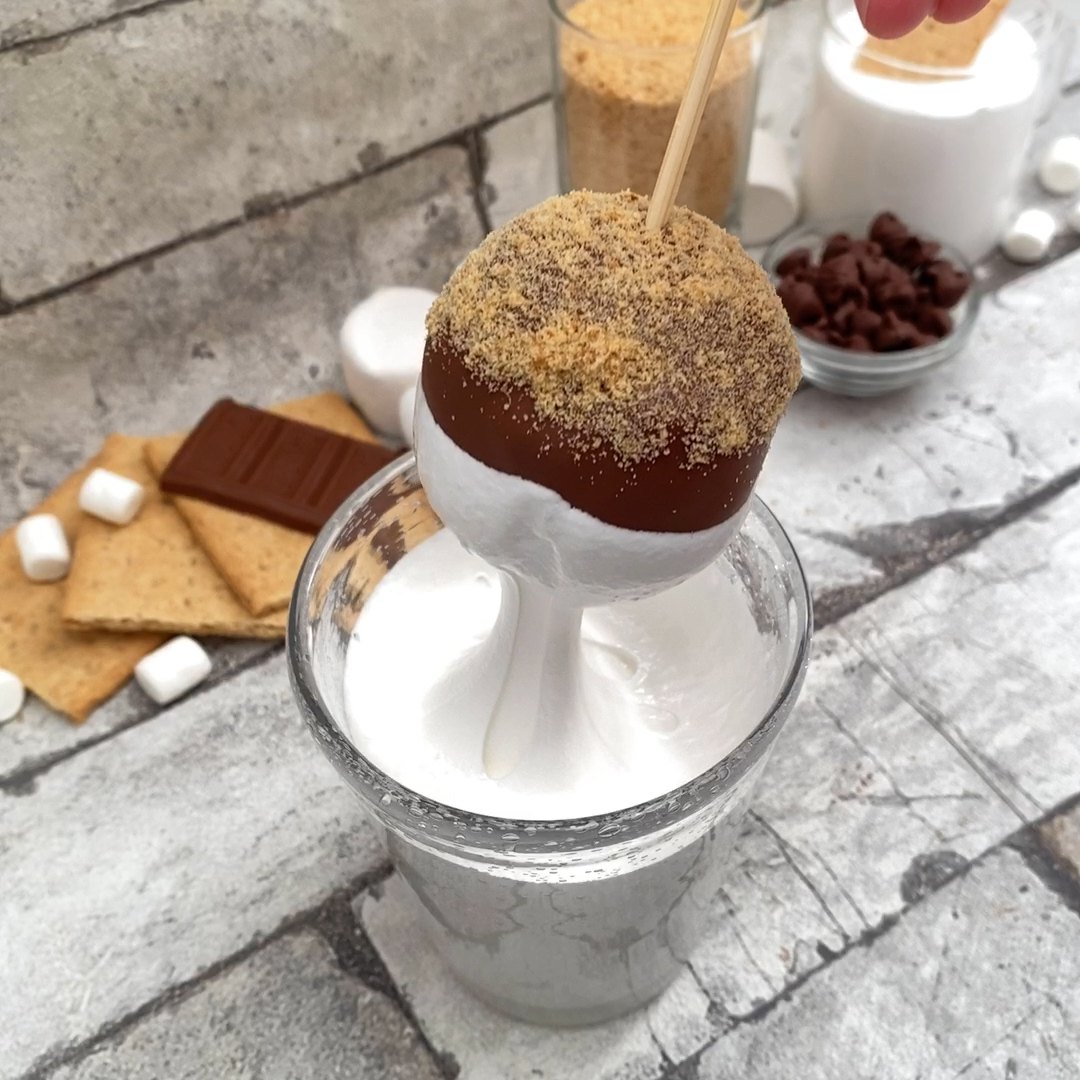 6 S'mores Remixes
The best part of summer deserves a little extra attention! 🍫🔥💕
---
---
Total time: 15 minutes
Ingredients for 4 people
Chocolate cake
Marshmallow fluff
Melted chocolate
Graham crackers
Marshmallows
Melted butter
Puff pastry
Chocolate chips
Chocolate bar
Vanilla frosting
Aluminum foil
Caramel
Mini marshmallows
Tortillas
Charcoal
Baileys
---
Tools
Skewers
Lighter or blowtorch
Muffin tin
Large flower pot
---
Step 1/6
S'MORES CAKE POPS: Crumble chocolate cake. Mix with marshmallow fluff then form golf-ball-size balls. Place on the end of a skewer then dip in melted milk chocolate. Sprinkle the bottom half of the cake pop with graham crackers crumbs, then dip the top half in marshmallow fluff. Use a lighter to toast the marshmallow fluff.
Step 2/6
S'MORES BITES: Cut puff pastry into triangles. Place a marshmallow on a skewer, then dip in melted butter, then graham cracker crumbs. Place the marshmallows on the wide edge of the puff pastry triangle and place a square of chocolate bar on the marshmallow. Roll up the marshmallow in the puff pastry. Dip in melted butter then place them in a muffin tin. Bake for 15 minutes at 400 °F. When cooled, drizzle with frosting and sprinkle with more graham cracker crumbs.
Step 3/6
S'MORES BARK: Cover a sheet pan entirely with aluminum foil making sure to cover the sides. Cover the sheet pan completely with whole graham crackers. Spread caramel over the graham crackers and bake for 5 minutes at 350 °F. Cover with mini marshmallows, then bake for 5 more minutes. Cover with chocolate chips and chocolate bar squares. Use a lighter or blowtorch and melt the chocolate.
Step 4/6
S'MORES TACOS: Place half of a chocolate bar, graham cracker, and toasted marshmallows inside of a flour tortilla. Top with chocolate chips. Dip in melted chocolate and graham cracker crumbs.
Step 5/6
MAKE S'MORES AT HOME: Cover the outside of a flower pot with foil to create a mold. Remove the flower pot from the foil mold and place the foil inside of the pot. Fold the edges of the foil around the top of the flower pot. Fill with charcoal and light them on fire. When the coals are hot enough, use it to toast marshmallows for s'mores.
Step 6/6
S'MORES SHOTS: Place marshmallow on a skewer. Then toast them with a lighter or blowtorch. When they are toasted remove them from the skewer keeping them together. The centers of the marshmallows should be hallow. Dip the bottom half of the marshmallow in melted milk chocolate, then cover with graham cracker crumbs. Fill the marshmallow shot glasses with Baileys. Cheers!