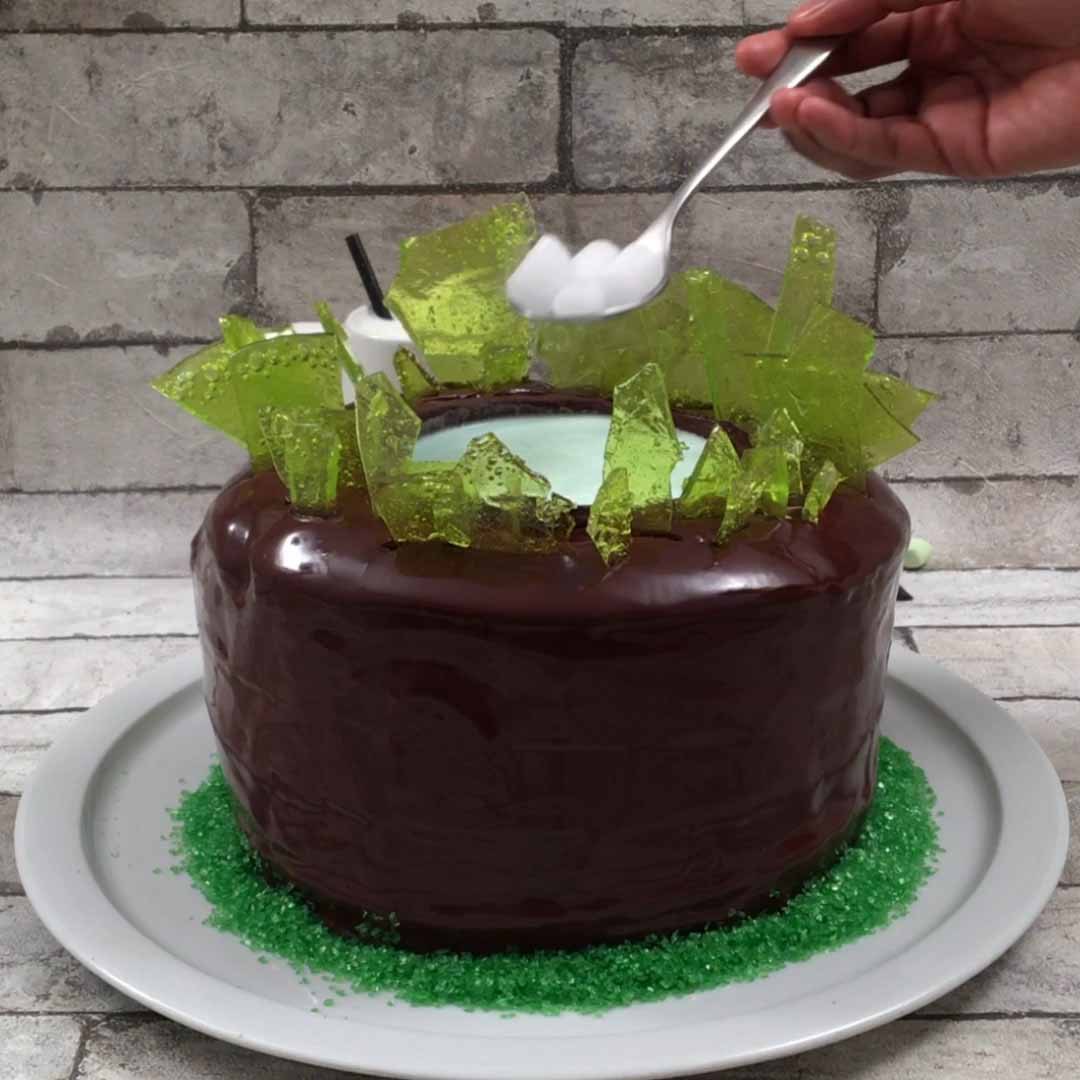 Hocus Pocus Cake
What will you conjure with this caldron?!🧙‍♀️🧙‍♀️🧙‍♀️
---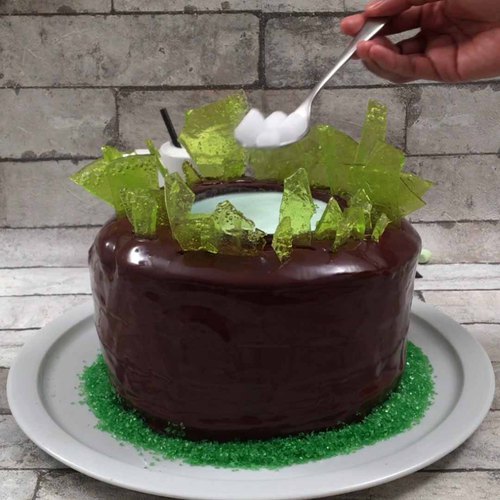 ---
Total time: 30 minutes
Ingredients for 4 people
Chocolate cake mix
3 eggs
1/2 cup vegetable oil
1 1/4 cup water
Melted milk chocolate
Green Jolly Ranchers
Chocolate frosting
2 cups chocolate chips
1 cup warm cream
6 oz half & half
6 oz Bailey's
6 oz creme de menthe
Ice cubes
Dry ice
Vodka
---
Tools
Small metal bowl
3 cake pans
Non-stick baking liner
Syringe
Lighter
---
Step 1/5
Mix cake mix with eggs, water, and oil. FIll three greased cake pans with batter. Bake 25 minutes at 350 °F. Let cool. Fill the small metal bowl with melted chocolate. Chill to set.
Step 2/5
Place the Jolly Ranchers on a baking sheet lined with a non-stick baking liner. Bake until they are completely melted. When the candy is cool, break into shards.
Step 3/5
Stack and frost the cakes. Before frosting the top of the cake, place a small bowl upside down in the center of the cake and cut around it. Remove the top layer of cake the size of the bowl. Frost the outside of the cake and inside the hole. Chill. Remove the chocolate bowl from the metal bowl and place it inside the center of the cake.
Step 4/5
Make the chocolate ganache by pouring hot cream over the chocolate and whisking together. With the metal bowl upside down, covering the center of the cake, pour the ganache around the cake to cover it. Chill to set.
Step 5/5
Make the grasshopper by shaking together creme de menthe, Bailey's, and half & half. Pour the drink into the chocolate bowl. Place the candy shards around the top of the cake and green sanding sugar around the bottom. Add dry ice to the cocktail. Fill the syringe with vodka and drop drops on the green sugar. Use a lighter to light the vodka on fire. Enjoy!