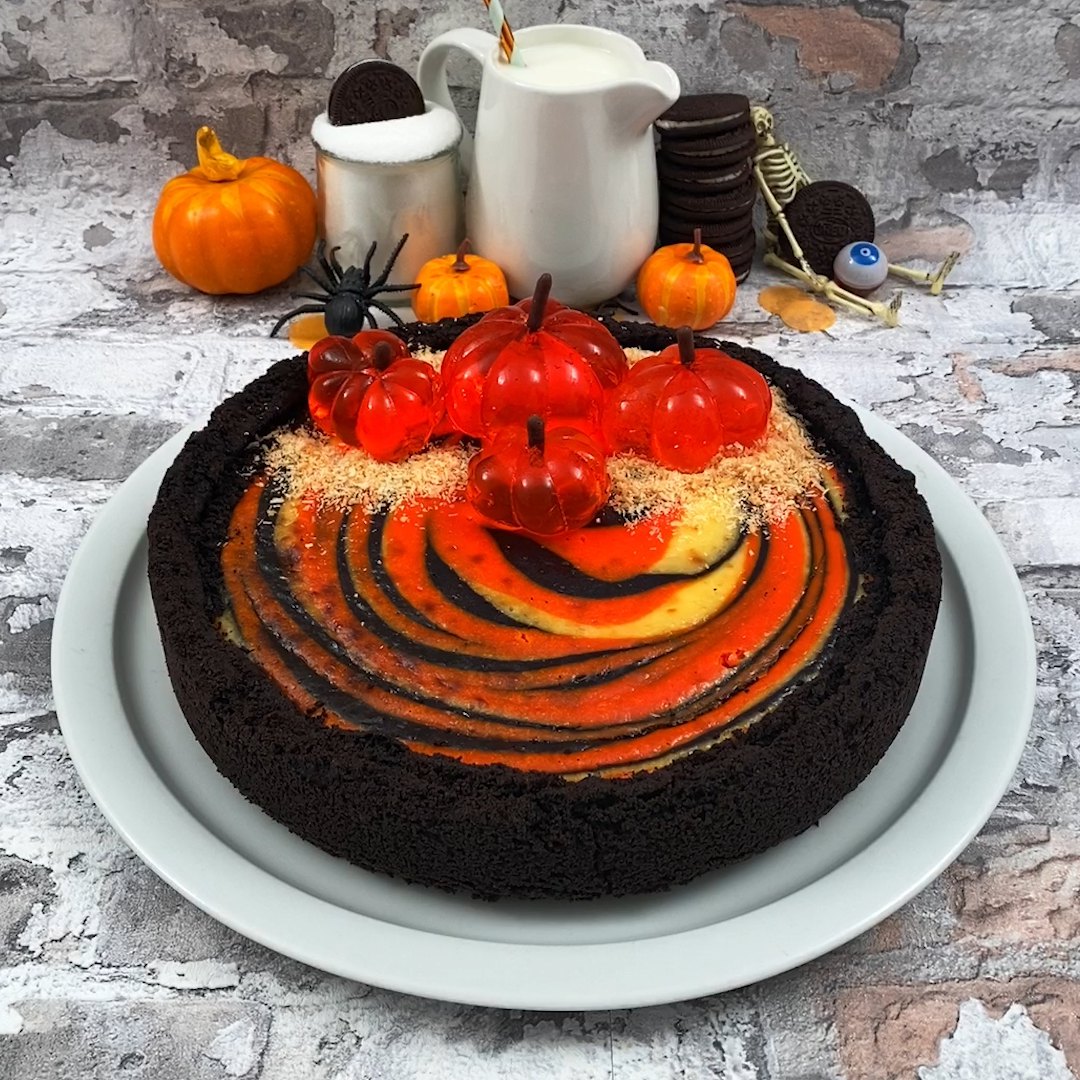 Falling for Cheesecake
Fall isn't complete without a trip to the pumpkin patch!🍁🎃👻
Total time: 60 minutes
Ingredients for 6 people
2 yellow Jell-o powder packets
1 red Jell-o powder packet
Water
3 gelatine sheets
Oreos
1 cup butter
4 cups cream cheese
3/4 cups sugar
4 eggs
1 tsp vanilla
Orange food coloring
Black food coloring
Chocolate Pocky sticks
Toasted coconut
---
Tools
Water balloons
Squeeze bottle
Kitchen twine
Springform pan
3 piping bags
---
Step 1/4
Mix the gelatine sheets with 1 cup of hot water. When the sheets dissolve, add the red and yellow Jell-o packets. When well mixed, add 1 cup of cold water. Fill a squeeze bottle with the Jell-o liquid. Cover the top of the bottle with the water balloon and use the pressure from the squeeze bottle to fill the water balloon. Tie to close the balloon. Wrap kitchen twine around the balloon to create a pumpkin shape. Let chill until the Jell-o is solid.
Step 2/4
Remove the cream from the Oreos and crush them using a food processor into crumbs until you have 2 cups of Oreo crumbs. Melt the butter and mix it with the Oreo crumbs. Press the crust into a springform pan. Set aside.
Step 3/4
Beat together the softened cream cheese, sugar, vanilla, and eggs until smooth. Divide the cheesecake batter into three bowls. Mix in black food coloring into one bowl and orange in a second bowl. Fill three piping bags with the filling. Start by piping a small portion of orange cheesecake into the Oreo crust. On top of the orange cheesecake, pipe a small portion of white cheesecake. On top of the white cheesecake, pipe a small portion of black cheesecake. Continue this pattern until all the cheesecake is piped into the crust. Bake for 40 minutes at 350 °F.
Step 4/4
When the Jell-o pumpkins have set, remove the strings and balloons. Place them on top of the baked and cooled cheesecake. Poke Pocky sticks into the tops of the pumpkins to become stems. Garnish with toasted coconut.