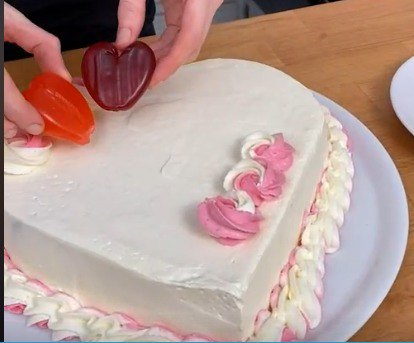 Red Velvet Jello Heart
Red Velvet Jello Heart! You had me at jello 😘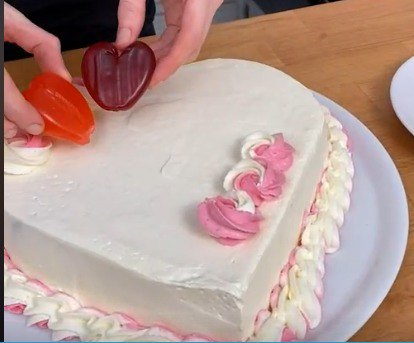 ---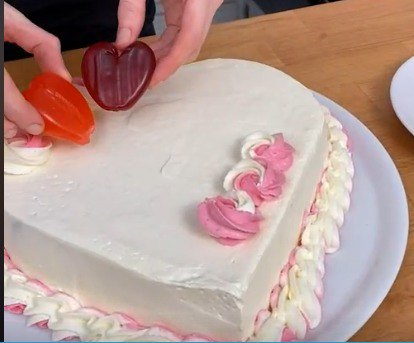 ---
Total time: 2 hours
Prep time: 30 minutes, Cook time: 30 minutes, Rest time: 1 hour
Ingredients for 6 people
1 1/2 cups of flour
1 tsp of baking powder
1/2 tsp of salt
2 tbsp of cocoa powder
8 tbsp of butter
1/4 cup of vegetable oil
3 eggs
1 tsp of vanilla extract
1/4 cup of sour cream
2 tbsp of coffee
1/4 cup of buttermilk
1/2 tsp of white vinegar
1 oz of red food coloring
1 grape jello
1 cherry jello
1 strawberry jello
1 1/4 cups of heavy cream
10 oz of cream cheese
1/2 cup of powdered sugar
---
Tools
Balloons
Rubber bands
Cardboard
Scissors
Funnel
Empty soap dispenser
---
Step 1/5
In a large mixing bowl, cream butter and sugar together. Mix in the oil until well blended. Add the eggs one by one. Add in the coffee and sour cream. In a small bowl mix together the buttermilk, vinegar and food coloring. Add the flour, baking powder and salt. Combine all ingredients. Pour the cake batter into a greased cake pan. Bake at 325°F for 30 minutes. Carefully turn the cake out onto a rack to cool.
Step 2/5
Whip the heavy cream, cream cheese and powdered sugar together. Once the cake has cooled completely, use a serrated knife to cut the cake in half horizontally. Cover the cake with the whipped cream. Place the top layer of the cake on top.
Step 3/5
To cut the cake into a heart, begin by tracing a cross onto the cake without cutting into the cake. Connect the outer point of the cross and cut the cake into a V shape on one end of the cake. On the top of the cake on one side spread some whipped cream. Press the two round edges into the cream to create the rounded top of the heart. Spread the frosting over the cake to cover completely. Reserve some frosting for the decoration.
Step 4/5
In a clean bottle of a soap dispenser, pour in one packet of jello powder and 2 packets of unflavored gelatin. Pour in 1/3 cup boiling water and swirl the bottle to dissolve the gelatin completely. Place the pump lid onto the bottle and place a balloon on the end. Pinch the balloon around the nozzle and pump to fill the balloon with jello. Slide the balloon off the soap dispenser. Tie a knot. Cut small squares of cardboard with a slit cut into the top of each. Place the balloon in between 2 cardboard squares and wrap a rubber band around the carboard to sandwich in the balloon. The rubber band should be pressing down in the center of the top of the balloon. Add a rubber band around the carboard horizontally to help keep the shape. Continue with the rest of the jello and balloons. Place the filled balloons into the refrigerator to chill for 30 minutes.
Step 5/5
Decorate the heart shaped red velvet cake using a piping bag and a piping tip. Add ruffled border and whipped cream roses. Take the jello hearts out of the refrigerator and remove the balloon covering. Place the jello hearts onto the cake and serve.