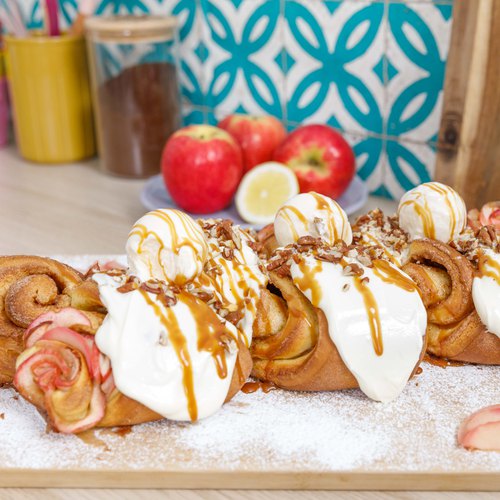 Apple Cinnamon Roll
Apple Cinnamon Roll! You will applesolutely love this dessert 😍🍎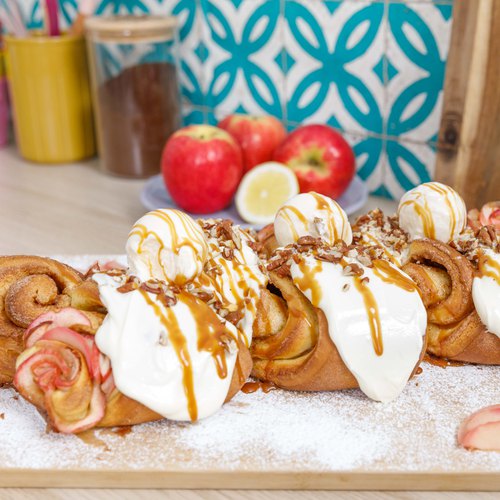 ---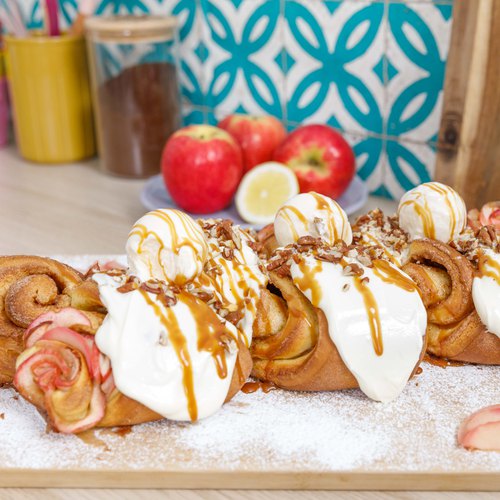 ---
Total time: 2 hours 5 minutes
Cook time: 25 minutes, Rest time: 1 hour 40 minutes
Ingredients for 8 people
4 cups of flour
2 cups of sugar
1 tsp of salt
3 tsp of baking powder
2 tbsp of cinnamon
5 tbsp of butter
1 apples
4 oz of cream cheese
1 cup of powdered sugar
1 cup of milk
3 scoops of chefclub vanilla ice cream
Caramel sauce
1/4 cup of pecans
2 eggs
---
Tools
Scissors
Mandoline slicer
Baking sheets
---
Step 1/4
In a bowl add the flour, eggs, milk, 1 cup of sugar, salt and baking powder. Once the dough is smooth, divide into 2/3 and 1/3. Knead the 1/3 of dough with the cinnamon. Place the dough into a lightly greased bowl and cover with a kitchen towel. Allow dough to double in size. This can be done the day before by placing the dough in the refrigerator overnight. Roll the dough out into a large rectangle. Spread with the softened butter, leaving one long edge of the dough without butter. Sprinkle with cinnamon and 1 cup of sugar. Start rolling up the dough into a log (opposite the edge without butter). Press to seal the edges. Place onto a baking sheet seam side down.
Step 2/4
Slice the apple into thin slices on a mandoline or with a knife. Melt the sugar on the griddle then cook the apples until softened. Do not overcook. Layer the apples onto a plate.
Step 3/4
Use scissors to cut into the dough at a 45° angle, careful to NOT cut all the way through the dough. Put the cinnamon roll to the right side then continue cutting. Place the second to the left side and then continue until there are 8 attached cinnamon rolls. Unroll one of the cinnamon rolls and layer the apple slices along the strip of dough. Gently roll it together and tuck it back into the cinnamon roll. Repeat the process with the remaining cinnamon rolls. Let the dough rest for 20 minutes. Preheat the oven at 350°F. Bake the cinnamon rolls for 25 minutes, covering with aluminum foil if the outside gets too dark.
Step 4/4
Whisk together the cream cheese, 4 tbsp of softened butter, powdered sugar and a dash of milk to get a creamy texture. When the cinnamon roll comes out of the oven allow to cool for 5 minutes. Spread the cream cheese cheese frosting onto the cinnamon roll. Sprinkle with toasted pecans. Top with a couple of scoops of vanilla ice cream and drizzle with caramel sauce. Enjoy!