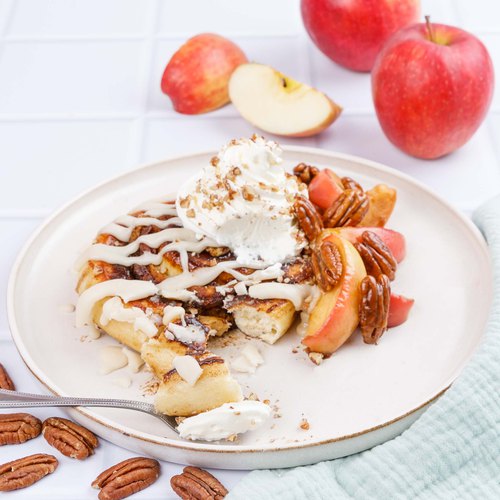 Rollin' Cinnamon Pancakes
Rollin' Cinnamon Pancakes! The fluffiest breakfast you deserve 😍🥞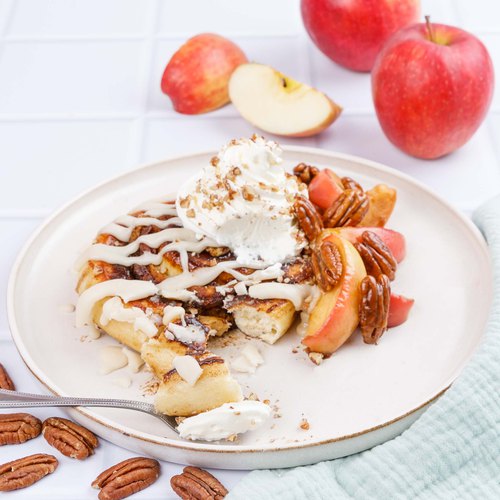 ---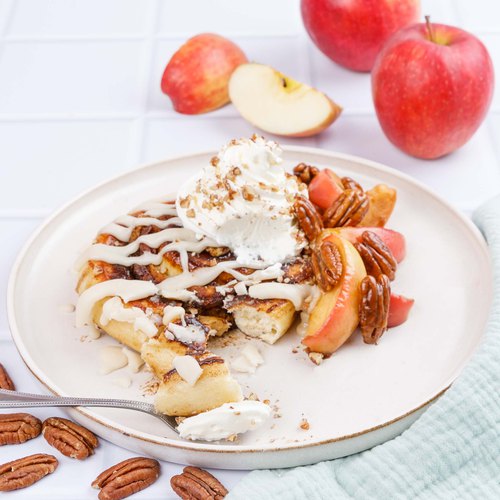 ---
Total time: 2 hours 30 minutes
Cook time: 30 minutes, Rest time: 2 hours
Ingredients for 6 people
5 1/4 cups of flour
1 cup of sugar
3 tsp of yeast
1 1/4 cups of milk
4 egg
1 cup of butter
2 tbsp of cinnamon
1 cup of brown sugar
1/2 tsp of baking soda
1/2 tsp of salt
2 apples
1 cup of buttermilk
1/2 cup of salted caramel sauce
1/4 cup of crushed ice
1 1/2 cups of heavy cream
2 cups of powdered sugar
1/4 cup of maple syrup
---
Tools
Apple slicer
parchment paper
Skewer
---
Step 1/6
In a large bowl stir together 1 cup of warm milk, yeast and sugar. Allow to sit for 5 minutes. Add 2 eggs, 4 cups of flour and salt. Mix until dough is elastic and smooth. Add 7 tablespoons of butter little by little and continue to mix together until the dough pulls away from the pull and it is not sticky. Place in a bowl and leave to rise for 2 hours. This can be made the day before and placed directly into the refrigerator where it will rise slowly overnight.
Step 2/6
Mix the cinnamon, brown sugar and 6 tablespoon of butter. Roll the dough out and spread the cinnamon roll filling. Roll up the dough. Using dental floss or a sharp knife, cut the dough into cinnamon roll portions. Place on a baking sheet lined with parchment paper and put into the refrigerator while making the pancake batter.
Step 3/6
Mix together 1.5 cup of flour, baking soda, salt and 1 tablespoon of sugar in a mixing bowl. Make a well in the flour and pour in two eggs and the buttermilk. Stir together and let rest for 5 minutes. Heat a non-stick pan over medium heat. Unroll a cinnamon roll and use a small skewer to help keep the shape. Place into the hot pan and pour pancake batter into the cinnamon roll. Pour a couple tablespoons of water around. Put the lid on the pan and cook for 3-4 minutes. Flip the pancake then add more water, cover and cook for another 3-4 minutes. Continue with the rest of the cinnamon rolls until there is no more pancake batter.
Step 4/6
Pour the caramel sauce over the apples. Cut with the apple slicer and place into the pan without the pancakes. Add 2 tablespoons of butter and sautée the apples until soft.
Step 5/6
In a bowl, add the crushed ice and heavy cream. Whip the cream until light and fluffy. In a small bowl stir together the powdered sugar, maple syrup and 1/4 cup of milk. Add more milk to get desired consistency.
Step 6/6
Serve the pancakes on a large plate surrounded by the caramel apples. Drizzle the glaze on the pancakes and top with whipped cream. Enjoy!