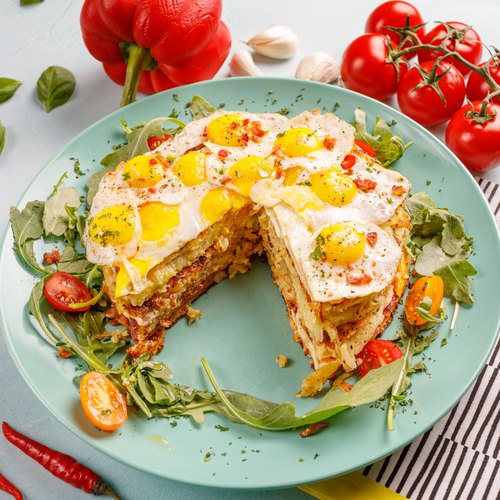 Everything Breakfast Tower
All of your favorite breakfast items in one giant stack of pancakes 🥞🍳☀️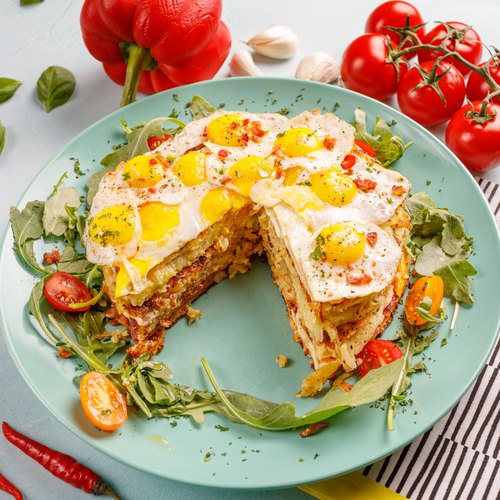 ---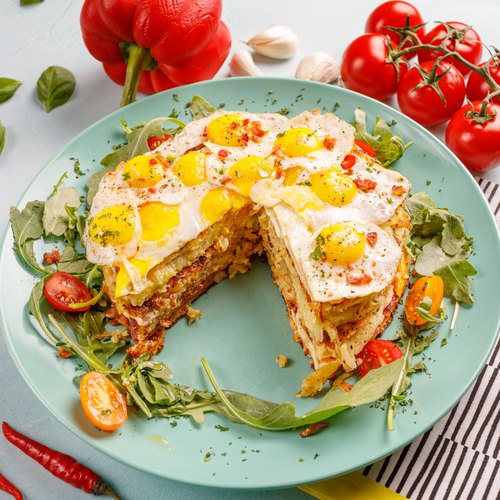 ---
Total time: 1 hour 10 minutes
Prep time: 30 minutes, Cook time: 40 minutes
Ingredients for 4 people
6 1/4 cups of flour
1 1/3 tbsp of salt
7 tsp of baking powder
3 eggs
1/4 cup of sugar
2 1/2 cups of milk
butter
30 quail eggs
salt & pepper
6 slices of cheddar
14 slices of grilled bacon
1 lb of breakfast sausage
chives
2 russet potatoes, shredded
maple syrup
1/2 onion
---
Tools
Electric griddle
Glass
Round baking dish
Spatula
---
Step 1/3
Prepare the pancake batter by mixing 6 cups flour, salt, 2 eggs, baking powder, sugar, and milk. Whisk together until smooth. Cook two large pancakes, then make 7 holes in each one using a glass, remove the circles, and place the pancakes back on the griddle. Next, pour 1-3 quail eggs in each hole on low heat so they don't overcook. Salt and pepper the eggs. On one of the pancakes, add back the cut out circles and cover with 6 cheddar slices and 14 slices grilled bacon. Remove both pancakes and set aside on plates.
Step 2/3
Roll the breakfast sausage into a large ball, place it on the hot grill, and press it down and flatten with a round dish. Cook on both sides, then pour pancake batter on the pattie, sprinkle with chives, let bubbles form, and flip it to cook the pancake. Remove and set aside.
Step 3/3
Prepare the hashbrown mix by mixing the shredded potatoes, finely chopped onion, 1/4 cup all purpose flour, and 1 egg. Next, add the hash browns onto a hot buttered griddle and press down with a round dish. Cook on both sides and set aside. Enjoy individually or stack all of the pancakes on top of one another and garnish with butter and maple syrup. Enjoy!