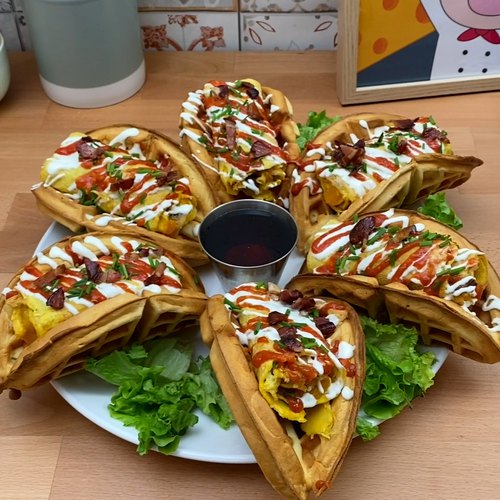 Breakfast Tacos
You're going to love these a waffle lot 🧇😍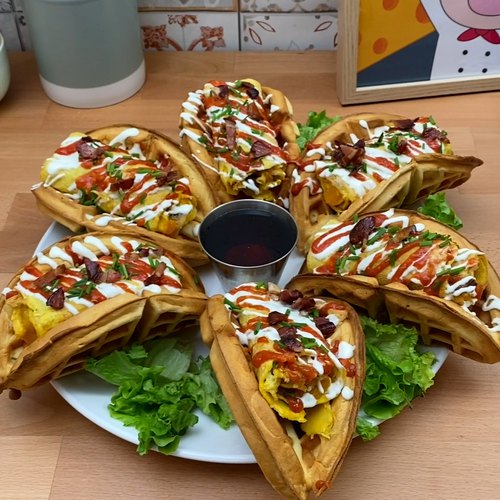 ---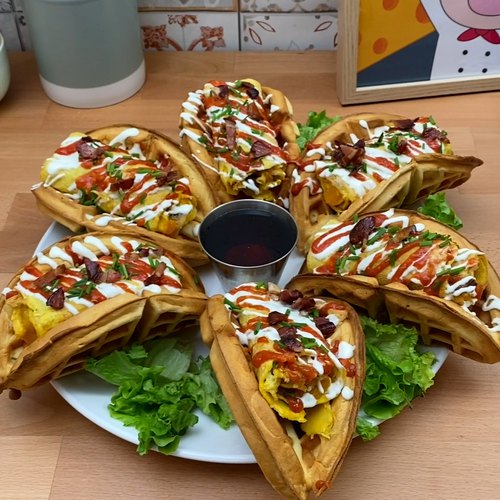 ---
Ingredients for 6 people
1 box of waffle mix
cooking spray
6 sausage link
12 eggs
salt & pepper
6 slices of cheddar cheese
chives
1/2 cup of sour cream
1/2 cup of salsa
green onion
bacon bits
---
Tools
Cardboard
Foil
Ladle
Metal spatula
Squeeze bottles
---
Step 1/4
For the DIY taco stand: Measure out 13x4 inch cardboard rectangle and cut in half. For each piece, make a fold (accordion style) every 3 inches. Wrap in aluminum foil after to form the taco holders. Place on a baking sheet.
Step 2/4
For the waffles: Make the batter according to the directions on the package. Next, spray the waffle maker with cooking spray. Use 1.5 ladles of batter for each waffle and cook each waffle for 4 minutes. After, place the waffles into the taco stand as seen in the video. Bake the waffles for 7 minutes at 350 °F so that they will hold their shape.
Step 3/4
For the egg rolls: Cook the sausage links on one side of an electric griddle. Whisk the eggs in a bowl with salt and pepper. Grab one of the sausage links and place it near the top of the other side of the griddle. Using a small ladle, pour 1 scoop of the egg mixture on top of the sausage and let it run down the sides. Use a metal spatula to guide it into a line. Add the cheddar cheese and let cook for 30 seconds. Then roll the egg using the metal spatula. Once it is rolled, place in the middle of the griddle and repeat the process until you have 6 egg rolls. Then pour 1 ladle of the egg mixture on the griddle and use your metal spatula to make a line again. Add chives to the top and at the top end. Next add one of the sausage rolls you previously cooked. Roll again and place in a taco once done. Repeat this process until all of the egg rolls have a 2nd coating.
Step 4/4
Whisk the sour cream with 2 tbsp water in a small bowl to thin it out and place into a squeeze bottle. Place the salsa in a squeeze bottle as well. Drizzle the sour cream and salsa over the tacos and garnish with chopped green onions and bacon bits. Serve with maple syrup and enjoy!