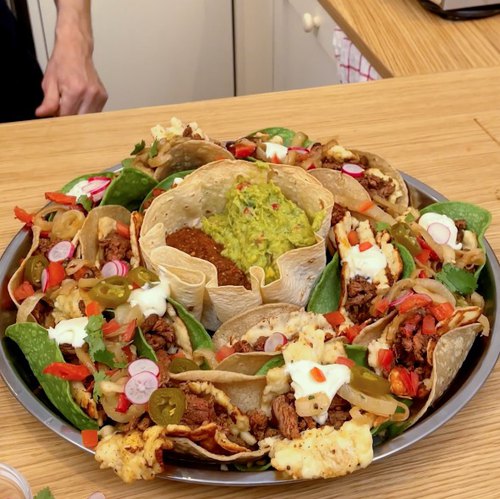 Bullseye Tacos To Share
Bullseye Tacos To Share! Taco bout an awesome recipe 🤣🌮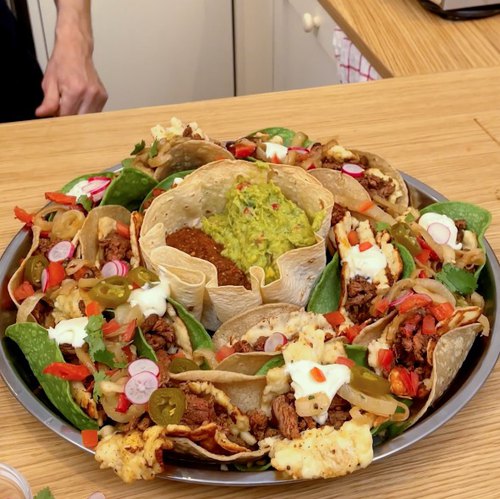 ---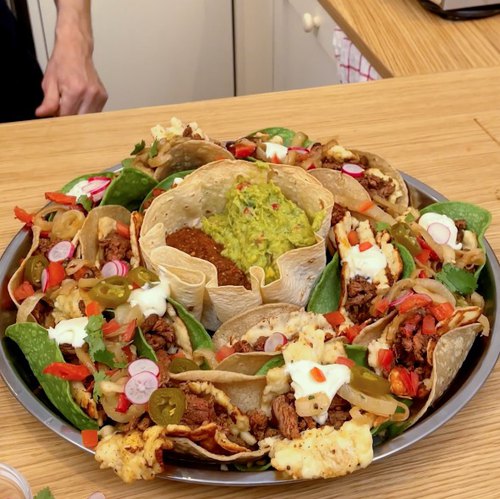 ---
Total time: 2 hours
Cook time: 2 hours
Ingredients for 6 people
18 tortillas
Frying oil
4 cups of cojita cheese
1 rumsteak
1/2 cup of mexican seasoning
Salt & pepper
Cilantro
1 cup of grilled red peppers & onions
1 tomatoes, diced
2 radishes
1 lime
1 large tortilla
1/4 cup of jalapeños
1/2 cup of sour cream
Guacamole
Salsa
---
Step 1/3
Fry tortillas lightly for about 30 seconds in oil at 350°F. Remove and place them around a large round cake mold with the bottom removed then a second smaller one towards the center and place the rest of the tortillas around that one, slightly overlapping. Place another cake mold in between those two to keep the tortillas from opening too much, place another smaller mold in the center of those and put a large flour tortilla in it forming a bowl shape with any oven safe round item and place all in oven at 300°F for about 15 minutes. Remove from oven and flip over. Remove all cake molds and flip the large flour tortilla over keeping it in the center, set all aside.
Step 2/3
Take a piece of rumsteak and cover it completely in mexican spices mixed with salt and pepper and some chopped cilantro, grill to medium and chop into small pieces.
Step 3/3
Place crumbled cotija cheese on a grill and press down to form a circle with a burger press. Cook until the bottom is grilled. Place the chopped steak on top. Add both to taco shells. Add grilled mixed veggies, diced tomatoes, cilantro, radish, jalapeños, sour cream and a squeeze of lime. Place guacamole and red salsa in center flour tortilla bowl. Serve and enjoy!