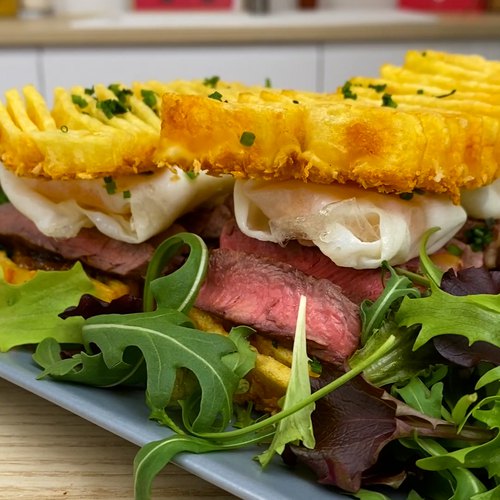 Waffle Fry Sandwich
A steak and egg sub for the win 🍟🥩🍳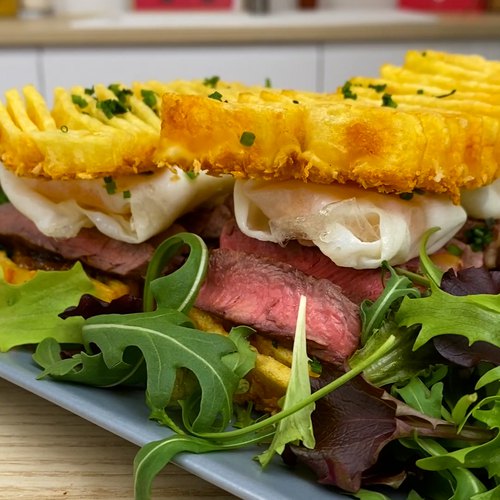 ---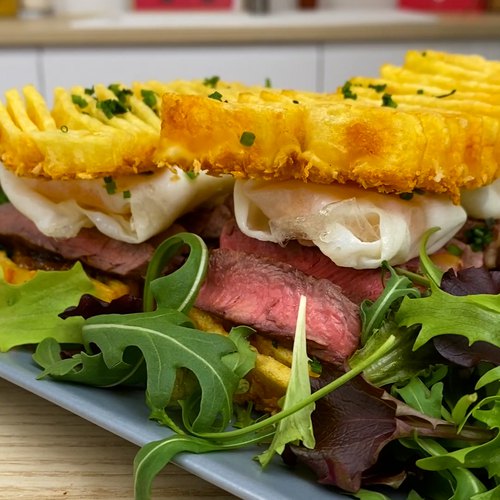 ---
Ingredients for 2 people
2 potatoes
frying oil
1 cup of heavy whipping cream
5.3 oz of grated cheddar
salt & pepper
3/4 cup of panko
2 tbsp of sunflower oil
1 lb of ribeye steak
2 tbsp of butter
2 sprigs of fresh thyme
4 eggs
1/2 cup of caramelized onions
chives
---
Tools
Chopsticks
Skewers
---
Step 1/5
Cut 2 large rectangular blocks from each potato for a total of 4 rectangles. Place the blocks between 2 chopsticks and make parallel cuts across the width until the knife hits the chopsticks. Turn the potato blocks over and cut diagonally on the other side in the same way. Stretch the cut blocks between 2 forks and fry them a first time, keeping them stretched, for 5 minutes at 320 °F. Then let the fries sit for 15 minutes. Fry a second time with the oil at 350 °F until the fries have a golden color.
Step 2/5
For the cheese sauce: In a saucepan heat the heavy whipping cream and add in the grated cheddar, salt, and pepper. Mix well and pour onto a large plate. Dip the 4 waffle fry blocks into the cheese sauce and then the panko. Afterwards set on a serving plate.
Step 3/5
In a frying pan heat the sunflower oil and sear the ribeye on high heat on both sides. Then on medium-low heat, add the butter and sage and cook for about 3 minutes. Then bake the steak in the oven for 5 minutes at 350 °F.
Step 4/5
Create 4 egg pockets by cooking the egg whites in the frying pan first and then adding the egg yolk. Fold over all of the sides until you've achieved a pocket as seen in the video.
Step 5/5
Remove the steak from the oven and slice into thin strips. Dress two of the waffle fries with caramelized onions, steak, the egg pockets, and chives. Cover with the remaining waffles fries, serve, and enjoy!