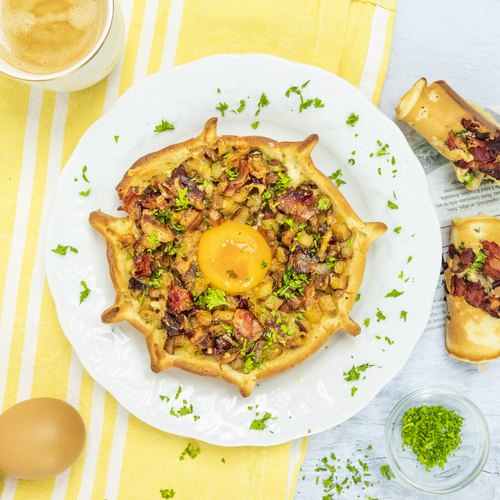 Pancake Bowls
Made for dunkin' 🥞🍳🤤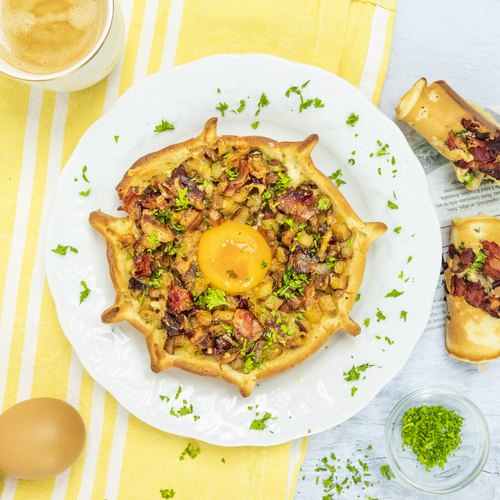 ---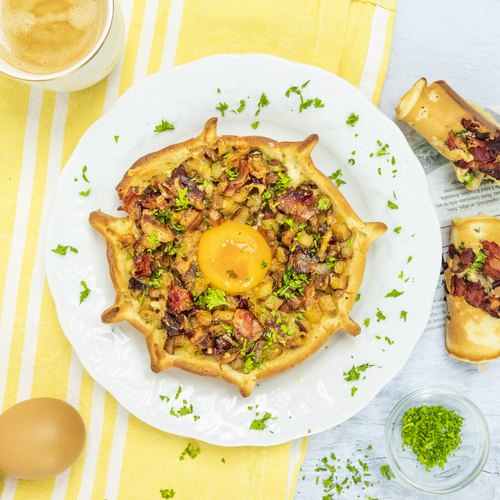 ---
Ingredients for 3 people
2 cups of flour
2 tsp of baking powder
5 eggs
1/3 cup of sugar
2 tbsp of vegetable oil
1 1/2 cups of milk
3/4 lb of potatoes
1 cup of bacon
1 shot whiskey
tabasco
salt & pepper
1 1/2 cups of shredded cheddar
6 popsicle sticks
parsley
---
Tools
Parchment paper
Electric griddle or frying pan
---
Step 1/5
In a mixing bowl add the flour, baking powder, 1/4 tsp salt, and sugar and whisk together. After, add in 2 eggs, oil, and half of the milk. Mix. Once the batter gets thicker, add the rest of the milk. Mix and set to the side.
Step 2/5
Dice the potatoes and bacon into small pieces. Cook the bacon in a frying pan or on an electric griddle over medium heat. Pour whiskey into a shot glass with a dash of tabasco, light on fire carefully, and pour over the bacon. Fry bacon until golden brown and then set to the side. Keep the grease in the pan, fry the potatoes until golden brown, and sprinkle with salt and pepper. Remove from the heat and add in the shredded cheddar and half of the grilled bacon. Set aside.
Step 3/5
Spray your pan or electric griddle with cooking spray and set to medium heat. Pour a ladle full of batter, let cook until bubbles form on top of the cake, add a shot glass to the center, and remove from heat onto a clean work surface. Then pinch the edges of the pancake as seen in the video so that the pancake has 8 points. Repeat 2 more times and place the pancake bowls on a parchment lined baking sheet.
Step 4/5
Next add the potato filling to each pancake around the shot glass. Once completely filled, remove the shot glass and crack an egg white into the hole, saving the egg yolk for later. Let bake in the oven for 10 minutes at 350 °F.
Step 5/5
Meanwhile, prepare 6 pancake & bacon sticks by placing popsicle sticks on the griddle with a handful of bacon and a sprinkle of parsley just beside each stick. Pour the batter over the bacon and the stick, let cook slightly, and roll up. Remove the pancake bowls from the oven, place the egg yolks in the center, and sprinkle with parsley. Dunk with pancake sticks and enjoy!