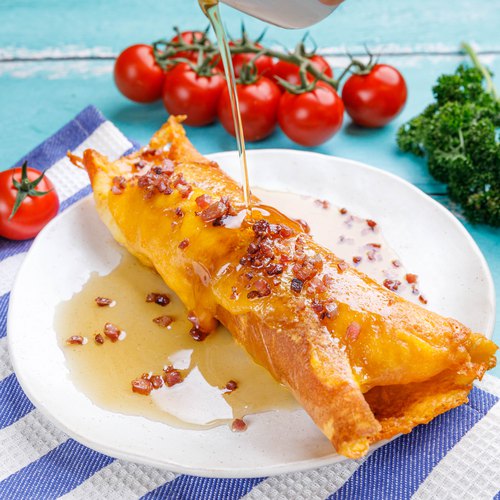 Breakfast dog
A new breakfast staple :)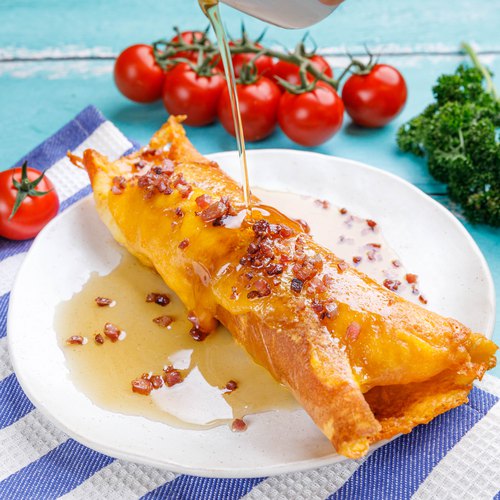 ---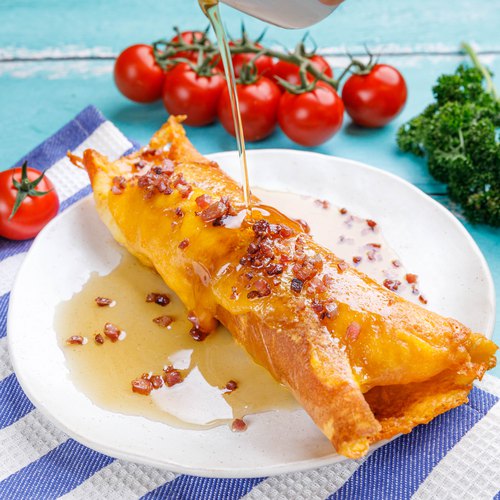 ---
Total time: 45 minutes
Prep time: 20 minutes, Cook time: 25 minutes
Ingredients for 2 people
2 sausages
3 1/2 oz of cheddar block
16 slices of bacon
1/4 cup of cheddar
2 cups of pancake batter
maple syrup
---
Tools
Electric griddle
Loaf pan
---
Step 1/3
Cook the sausages in a frying pan for 3 to 4 minutes until cooked through. Arrange 2 groups of 6 slices of bacon flat on your work space. Place a sausage on the end of each bacon rectangle, cut lengthwise down the center, and fill with cheddar. Roll the sausage in bacon and fry on an electric griddle over medium-high heat. Fry on all sides until the bacon is well cooked.
Step 2/3
Prepare your favorite pancake batter, then pour it onto the electric griddle using a loaf pan to cover the entire surface of the griddle. Sprinkle with grated cheddar and let cook until bubbles form on the surface of the pancake. Place the sausages on either end of the pancake, slice the pancake down the middle, and roll each sausage in the pancake. Add two handfuls of cheddar to the griddle and let melt. Place the pancake sausage on top of the cheese, let the cheese brown slightly, and roll the pancake. Set to the side.
Step 3/3
Grill the remaining 4 slices of bacon and chop into bits. Serve with bacon bits and maple syrup. Enjoy!