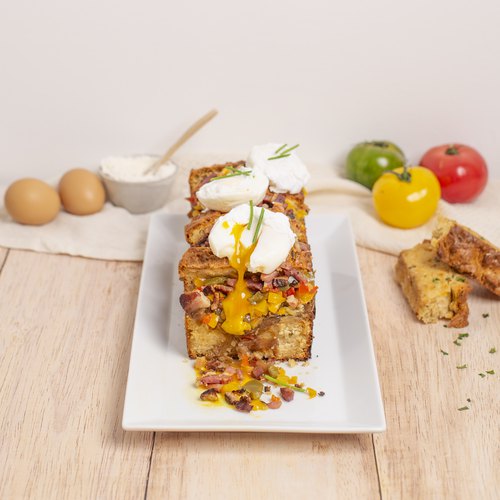 Brunch Loaf
Now that's some thickkk bacon 🥓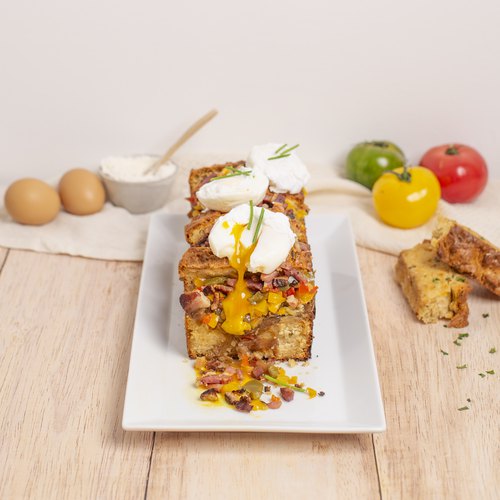 ---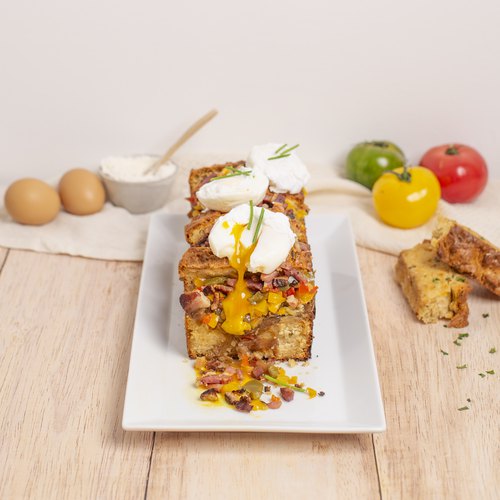 ---
Ingredients for 6 people
5 cups of bisquick
1 cup of shredded cheddar
2 tbsp of chopped chives
1 cup + 5 tbsp butter
1 cup of sour cream
1 cup of water
2 tbsp of baking powder
3 tbsp of maple syrup
2 tsp of salt
1 red bell pepper
1 green bell pepper
1 yellow bell pepper
1 onion
olive oil
16 slices of bacon
1 tbsp of vinegar
5 eggs
chives for garnish
---
Tools
Oven rack
Spider spoon
Loaf pan
Electric griddle
Small bowls
---
Step 1/3
In a mixing bowl add the Bisquick, cheddar, and chopped chives. In a saucepan heat up 1 cup butter, sour cream, water, baking powder, maple syrup, and salt. Once everything has melted, remove from the heat and add to the Bisquick mix. Mix well and pour into a greased loaf pan. Bake for 45 minutes at 325 °F. Let cool 10 minutes before removing from pan.
Step 2/3
Place the slices of bacon on a baking rack as seen in the video and bake for 10 minutes at 375 °F with a baking sheet on the bottom rack to catch the grease. Let the bacon cool slightly, place on a cutting board, and dice. Meanwhile in a frying pan sautee the chopped bell peppers with a touch of olive oil and set aside. Then sautee the chopped onion with a touch of olive oil until golden brown and set aside.
Step 3/3
Cut out 5 sections from the top half of the bread loaf as seen in the video, saving the removed sections. On an electric griddle, melt butter (about 5 tbsp) and toast all sides of the loaf and removed sections with the butter. Fill each section in the loaf with caramelized onion, sauteed bell peppers, and bacon bits. Bring a large pan of water to a boil and add in the vinegar. Place 5 small bowls in the boiling water and crack an egg into each bowl. Cook for 2.5 minutes. After, using the spider, take the bowls out of the water and place in a large bowl with the cold water. Let sit for 30 seconds and then remove using a spoon. Place the eggs on top of the loaf, garnish with chives, and enjoy!