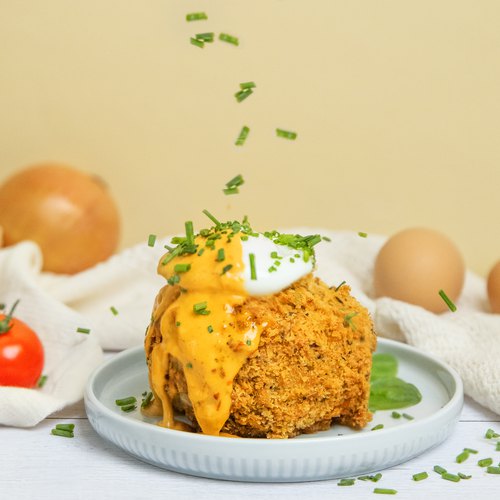 Onion Ring Benedict
This isn't your average benedict 😎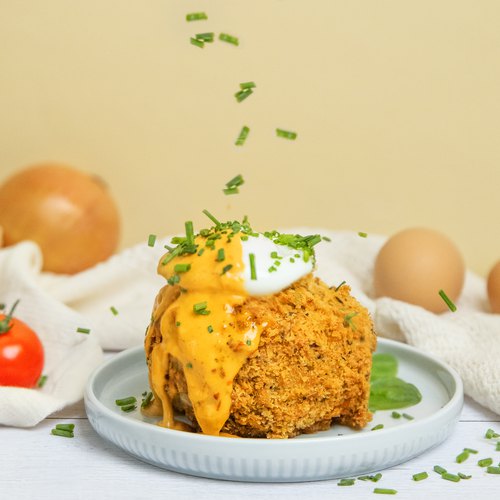 ---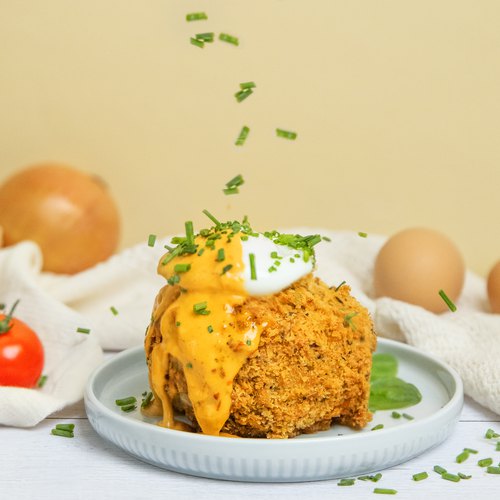 ---
Ingredients for 3 people
3 onions
olive oil
1 lb of ground breakfast sausage
3 slices of american cheese
3/4 cup of flour
1/4 cup of cornstarch
1/4 tsp of cayenne
1/4 tsp of smoked paprika
salt & pepper
1 cup of milk
1 cup of panko
1/2 tsp of dried thyme
1/4 tsp of dried oregano
sunflower oil
1 egg yolk
1 tsp of lemon juice
1/2 cup of butter
1 tbsp of chipotle puree
3 eggs
vinegar
chives
spinach
---
Tools
Parchment paper
Immersion blender
Mugs
Kitchen thermometer
Spider
---
Step 1/4
Cut the ends off of each onion. Starting at the top center, slice down vertically through half of the onion. Carefully remove the largest outer layer of each onion and set them aside. Dice the remaining onions into small dice. Cook the diced onion with olive oil until translucent. Then mix into the ground breakfast sausage. Cut the American cheese slices into four smaller squares. Form 3 large meatballs, place a stack of 4 small cheese squares in the center of each meatball, and close well. Place the outer layer of an onion around each meatball and chill.
Step 2/4
In a medium mixing bowl, combine the flour, cornstarch, cayenne, smoked paprika, and salt and pepper to taste. Then whisk in the cold milk. In another mixing bowl, combine the panko, thyme, and oregano. Next dip the meatballs into the batter and then the seasoned panko. Place on parchment lined baking sheet and freeze 30 minutes. Deep fry in sunflower oil in a large pot at 350 °F for 3-5 minutes each. Remove with spicer and place on a baking sheet and bake for 20-30 minutes at 350 °F.
Step 3/4
In a jar that fits an immersion blender, add the egg yolk, lemon juice, and 1 tsp cold water. Heat the butter in the saucepan until it reaches 220 °F. Once it is hot enough, slowly pour the butter in with the rest of the ingredients while blending. Then whisk in the chipotle puree. The consistency should be thick and homogeneous.
Step 4/4
Add about 1/4 water to each small glass cup with a splash of vinegar and a pinch of salt. Then crack an egg into each glass, cover the tops with small plates, and microwave for 45-60 seconds each. Place the onion ring meatballs on serving plates garnished with spinach, top with the egg, and dress with chipotle hollandaise sauce. Sprinkle with chives and enjoy!