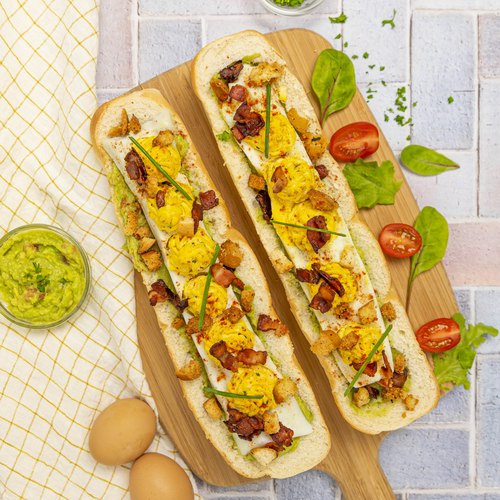 Deviled Eggs Toast
Hard boiled eggs like you've never seen them before 🤯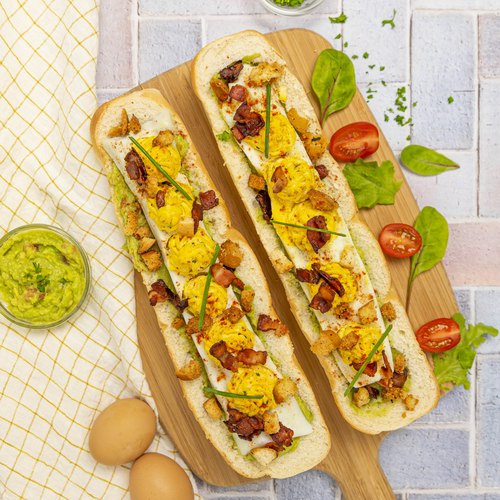 ---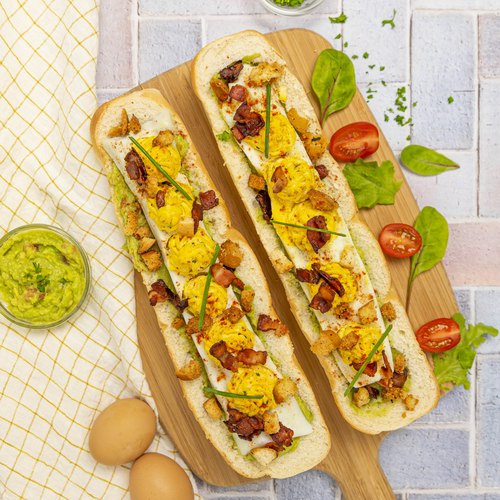 ---
Ingredients for 4 people
24 eggs
4 hoagie buns
1 tsp of olive oil
1 tbsp of chefclub guacamole mix
salt & pepper
1/2 cup of mayonnaise
2 tbsp of mustard
2 cups of guacamole
2 tbsp of bacon bits
chives
paprika
1 tomato
---
Tools
Plastic bags
Piping tip
Vacuum sealer
Parchment paper
Mechanical pen spring
---
Step 1/3
Create 4 plastic tubes by cutting a plastic bag into 4 sections and sealing the edges with a vacuum sealer. Separate the egg whites from the egg yolks and pour 6 egg yolks and 6 egg whites into each tube. Seal the tubes and place in a frying pan filled with water. Bring to a slow bowl and cook for 10 minutes. Take out and place in cold water. Then put them into the fridge for 30 minutes to harden.
Step 2/3
Remove the top piece from each hoagie bun with a serrated knife, dice into small pieces, and place on parchment lined baking sheet. Then dig out the center of the bottom bun and place the bits on the baking sheet. Drizzle with olive oil and sprinkle with the Chefclub guacamole mix, salt, and pepper. Bake for 5 minutes at 350 °F.
Step 3/3
Take the spring out of a mechanical pen and stretch it out. Remove the eggs from the plastic tubes and slice the egg rolls in half as seen in the video using the spring. Then remove the egg yolks and place in a plastic bag with mayonnaise, mustard, salt, and pepper. Mix well, cut off the bottom corner of the bag, insert a piping tip, and pipe the mixture into the empty wholes in the egg white roll. Next mix the chopped tomato with the guacamole, add it to the bottom hoagie buns, and place the egg roll on top. Garnish with bacon bits, the toasted bread crumbs, chopped chives, and paprika. Enjoy!