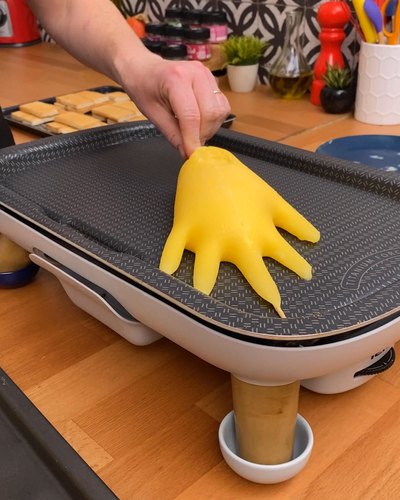 Funny Halloween Breakfast
Good mornin' coffin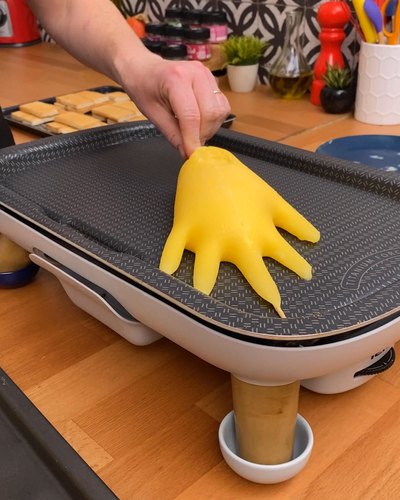 ---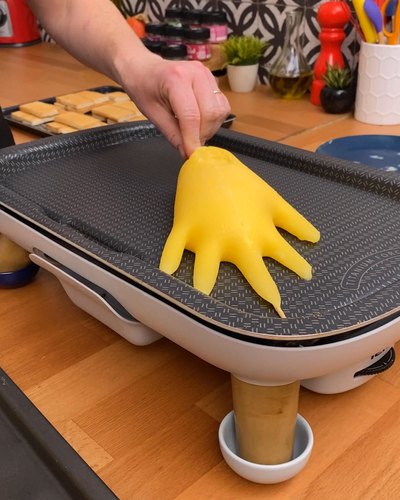 ---
Total time: 40 minutes
Prep time: 20 minutes, Cook time: 20 minutes
Ingredients for 2 people
6 slices of bacon
8 slices of bread
8 slices of cheddar cheese
6 eggs
maple syrup
2 cups of cooked hash browns
salt & pepper
ketchup
chives
1 cup of shredded mozzarella
---
Tools
Parchment paper
Electric griddle
---
Step 1/5
Place uncooked bacon in x shapes on a parchment-lined baking sheet and bake for 20 minutes at 375 °F.
Step 2/5
Remove the crusts of the bread slices and cut in half to form 16 rectangles. Cut one of the rectangles in half. Toast the bread in the oven until golden, about 7-9 minutes. Cut the cheddar slices into 32 strips about 1/2 inch wide.
Step 3/5
Place the cheddar slices on the electric griddle over medium heat, making a "X's" with two slices each (see video). As soon as the cheese begins to melt, add the bread slices to the top of the cheese as shown in the video, pushing the melted cheese between the pieces of bread with your spatula as much as possible. Start to carefully lift the bread pieces up and push the sides together to seal with the cheese. Shape the bread into a coffin shape. Repeat with the remaining cheese and bread to make a second coffin.
Step 4/5
Add cooking spray to the center of the coffins. Add three eggs to the center of each and cook to your preference, adding salt and pepper to taste. Dunk bacon x's into maple syrup. Then add the bacon on top of the eggs, followed by the cooked hash browns. Finish with ketchup and chopped chives. Optional: add a piece of toast with RIP written on it.
Step 5/5
Microwave the mozzarella for about 1 minute. Then, with 2 forks, stretch it and pull it apart to create a cobweb effect. Spread the mozzarella over the coffin. Happy Halloween! Enjoy!