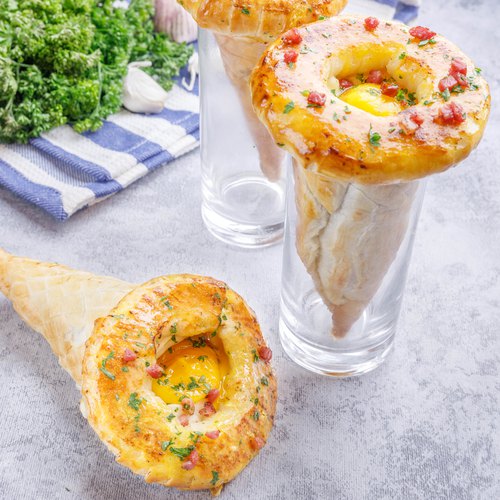 Breakfast Egg Cone
Breakfast Egg Cone! Egg-cellent breakfast on the go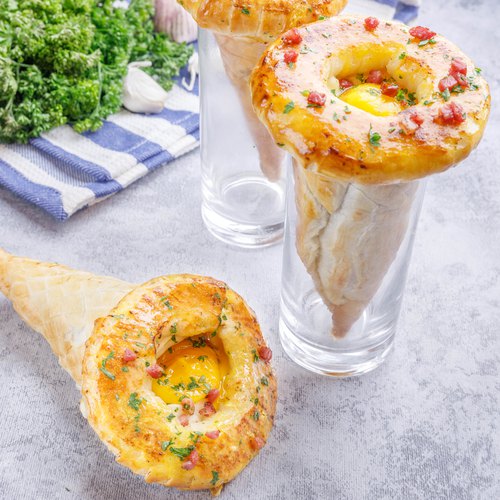 ---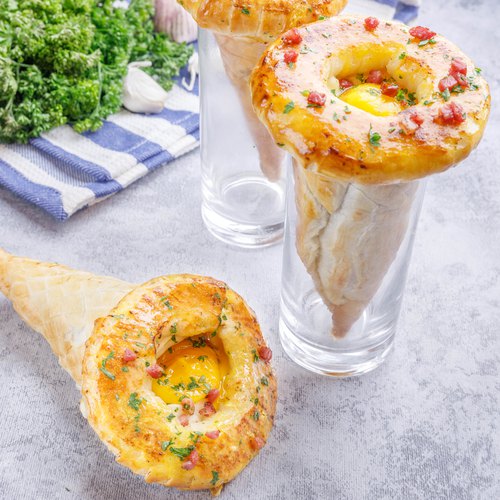 ---
Total time: 50 minutes
Prep time: 30 minutes, Cook time: 20 minutes
Ingredients for 3 people
2 slices of large babybel ® cheeses
6 tbsp of chefclub vegetable spice mix
1 puff pastry
3 tbsp of sour cream
3 oz of bacon bits
5 egg
Parsley
Onion confit
---
Tools
parchment paper
---
Step 1/3
Begin by opening the cheeses using the tab, and then slicing them in half lengthwise. Next, use a glass to create a hollow in the center of each cheese half, and place the cheese hearts into the glass for later use. After creating the hollows in the cheese halves, roll each side of the cheese ring in Chefclub vegetable spices. Then, take three small strips of puff pastry and wrap one strip around the cheese ring. Repeat this process two more times until the entire cheese ring is covered.
Step 2/3
Form three aluminum cones. Divide the puff pastry into 3 equal parts, then wrap each part of the dough around the aluminum cones and press the wrapped cones onto a grill to create a pattern. Place the cheese rings on a baking sheet lined with parchment paper, then place the cones upside down on top of the cheese rings. Brush the cones and rings with 2 egg yolks, then bake for 15 minutes at 350°F.
Step 3/3
Cook the bacon bits and onion confit. Remove the aluminum from inside the cones, place the cones upright in a glass, and fill them with a tablespoon of sour cream, bacon bits, and onion confit. Cover everything with the cheese hearts and an egg, then bake for 5 minutes at 350°F. Sprinkle with parsley and enjoy!