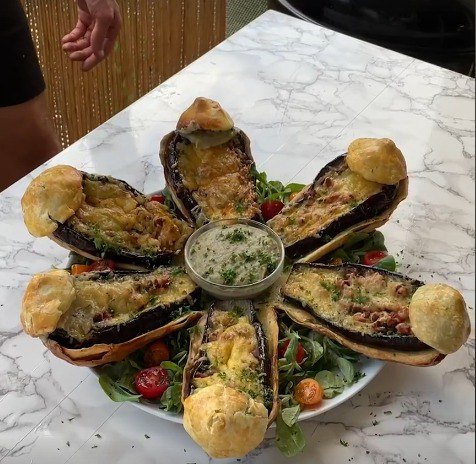 BBQ Eggplant Puff Pastry
BBQ Eggplant Puff Pastry! Heat up the grill and make this new snack 🥧​🥰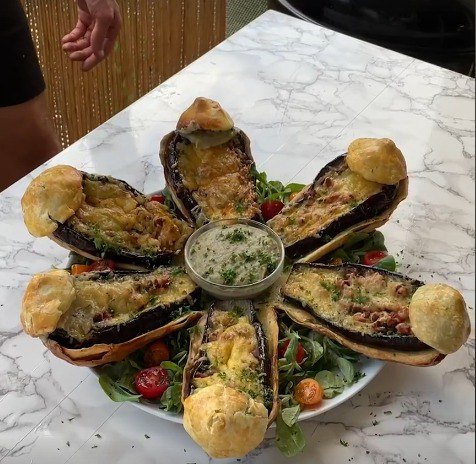 ---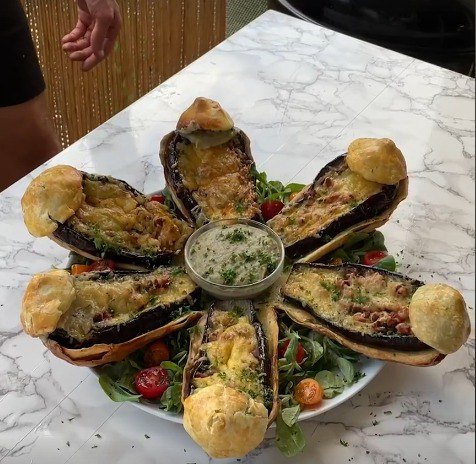 ---
Total time: 45 minutes
Cook time: 45 minutes
Ingredients for 6 people
3 eggplants
Olive oil
Parsley
Garlic
Egg
Quiche filling
Bacon bits
Swiss cheese
Puff pastry
---
Tools
Skewers
---
Step 1/3
Skewer the eggplants together. Mix olive oil, garlic and parsley together. Brush the eggplant with the mixture. Allow to cook for about 30 minutes.
Step 2/3
Remove from heat and cut in half lengthwise. Cut the stems ans set aside. Press the center down with the help of a spoon. Place on grill face up. Pour the quiche filling inside the eggplant. Add an egg to each one and sprinkle with swiss cheese and bacon bits. Allow to cook.
Step 3/3
Remove from heat. Place face down on foil. Create a star shape with the eggplants and coat with puff pastry. Coat the stems with puff pastry. Brush with eggwash and cook on the grill until done. Serve with salad and sprinkle with parsley. Enjoy!