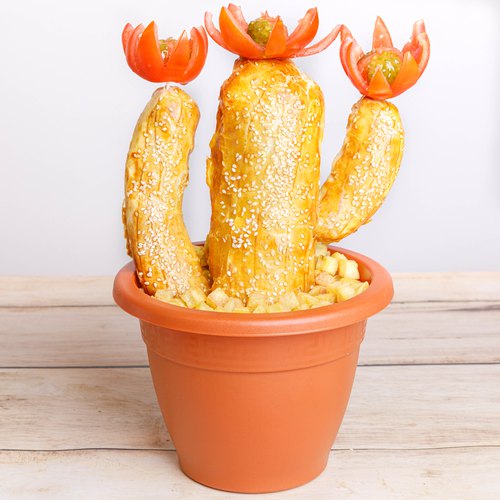 Sausage BBQ Cactus
Sausage BBQ Cactus! Take your tastebuds south for dinner 😜🌵🌭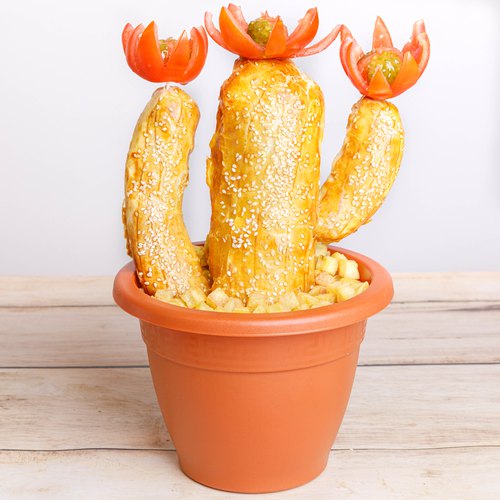 ---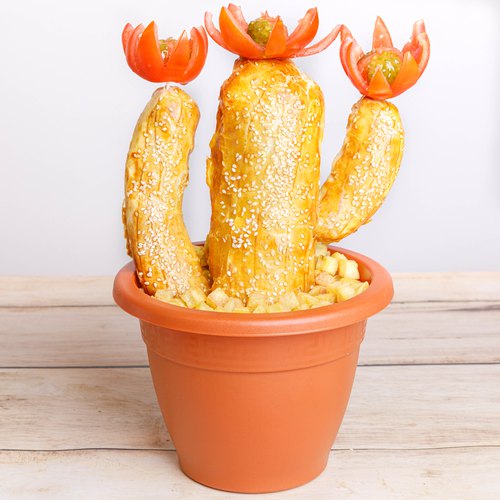 ---
Total time: 45 minutes
Prep time: 25 minutes, Cook time: 20 minutes
Ingredients for 4 people
1 puff pastry
9 sausages
2 egg
1 tbsp of barbecue sauce
1 tbsp of tomato sauce
1 oz of mozzarella
3 tomatoes
Olive oil
Potatoes
Sesame seeds
---
Tools
Cling wrap
Empty paper towel roll
parchment paper
Toothpicks
Flower pots
---
Step 1/3
Sprinkle the puff pastry with the Chefclub bbq spice mix. Reserve half of the meat of 1 sausage. Wrap the half-sausage, a whole sausage and ¾ of a roll wrapped in parchment paper with puff pastry. Make incisions on the puff pastry with a knife then brush everything with egg yolk. Sprinkle the puff pastry with sesame seeds and bake for 20 minutes at 350°F.
Step 2/3
On a sheet of cling wrap, remove the meat of 7 sausages (reserve one). Flatten everything, cover with tomato sauce, grated mozzarella then form a sausage by wrapping it in plastic wrap. Remove the sausage from the paper and cook it in a pan with a drizzle of oil. Make 4 incisions without going all the way into the tomatoes so that they form flowers.
Step 3/3
Remove the roll of puff pastry and insert the sausage inside. Add the arms of the cactus to its puff pastry trunk with toothpicks. Place the puff pastry cactus in a pot filled with cooked potatoes. Place the tomato flowers on top of each part of puff pastry and enjoy!