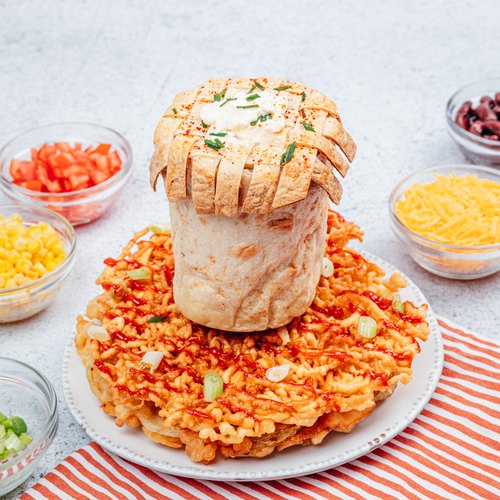 Breakfast Burrito Pie
Breakfast Burrito Pie! A Breakfast of Champions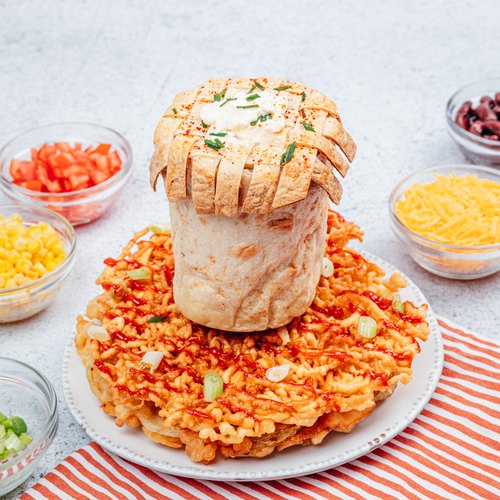 ---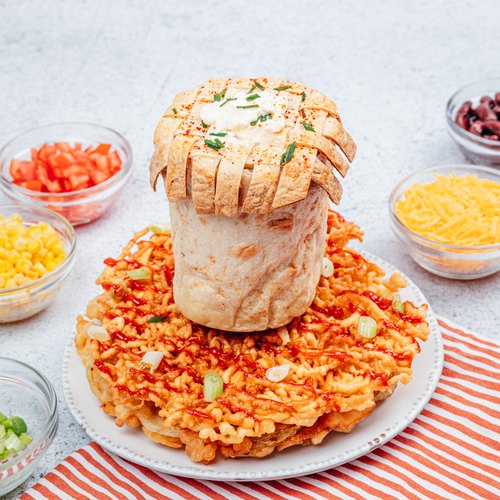 ---
Total time: 30 minutes
Prep time: 10 minutes, Cook time: 20 minutes
Ingredients for 4 people
Tortillas
Egg
Bacon
Cheddar
Potatoes
Salt & pepper
Breakfast sausage
Chives
Onions
Funnel cake batter
Sour cream
Chili powder
---
Tools
Aluminum foil
---
Step 1/3
Take a tortilla and top it with breakfast sausage and bacon. Press them onto the tortilla.Grill the tortilla with the toppings until they are fully cooked. On the same grill, cook some eggs, sprinkle them with cheddar and chives, and add cooked potatoes to the mix. Place the omelet onto the tortilla with the cooked sausage and bacon, wrap it tightly with foil, and cut it in half. Create a lattice with another tortilla and place it on top of the wrapped burrito. Bake the wrapped burrito with the tortilla lattice until it is fully cooked.
Step 2/3
Take some onion slices and arrange them in the shape of a flower. Secure the onion slices together by wrapping them with bacon slices in the center. Place the onion and bacon flower into the hot oil and cook until it is golden brown. Drizzle some funnel cake batter over the flower and continue frying until the batter is also golden brown. Remove the flower from the oil and place it on a paper towel to drain.
Step 3/3
Add a dollop of sour cream on top of the burrito. Sprinkle some chili powder and chopped chives on top of the sour cream. Drizzle some Sriracha sauce over the funnel cake, serve and enjoy!