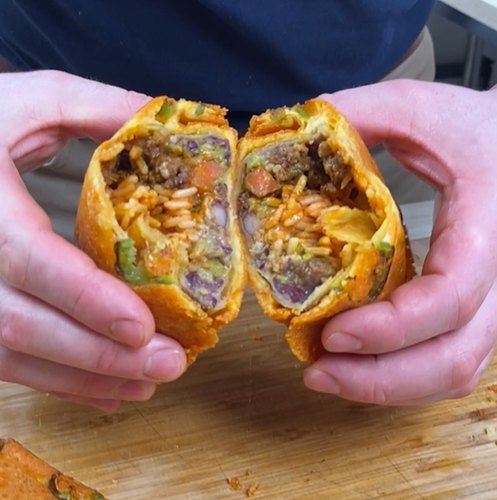 Potato Tortilla Burrito
Potato Tortilla Burrito! It's crunch time 🧀🌯😍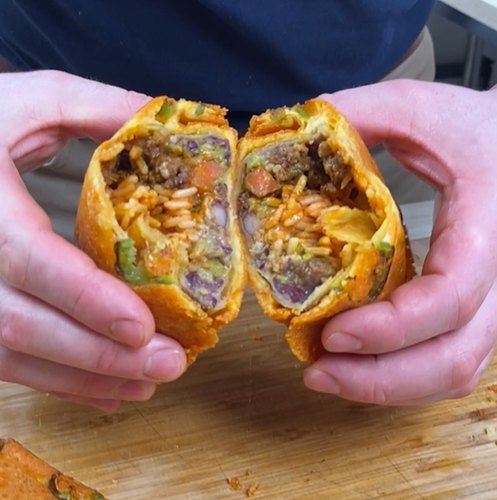 ---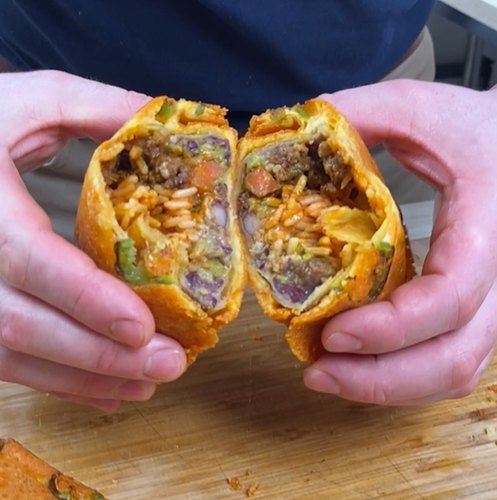 ---
Total time: 1 hour 50 minutes
Cook time: 1 hour 50 minutes
Ingredients for 2 people
Garlic
Coriander
3 tsp of cumin
Beef broth
4.4 lbs of ground beef
1 carrot
1 onion
Green peas
1 green bell pepper
10 potatoes
Espelette pepper
2 cups of rice
1 can of red beans
Salsa
Guacamole
Tomato sauce
Jalapeños
---
Tools
Cling wrap
parchment paper
---
Step 1/5
Sauté the onion in a small pan and add the can of red beans. Add the meat broth along with the cumin and let it cook for 1 hour. Use the back of a spoon to mash the beans in the pan and cook until thickened, about 1 hour.
Step 2/5
Cook the ground beef in a skillet over medium heat until browned. Remove the fat and add the onion and bell pepper. Cook the vegetables and garlic. Add the tomato sauce, meat broth and seasonings. Cover with a lid and cook 10 minutes. Remove the lid and cook an additional 10 minutes.
Step 3/5
Wrap the potatoes in cling wrap, place on a plate and microwave for 7 minutes, until tender. Remove and let rest for 5 minutes. Place a piece of parchment paper on the counter and grate the potatoes on top. Arrange the potatoes in a circle and bake at 350ºF for 15 minutes. Remove from oven and let rest.
Step 4/5
Heat the griddle to medium temperature and cook the tortilla on it. Remove from the plate and fill with beans, guacamole, meat and rice. Roll up in the form of a burrito and set aside.
Step 5/5
Place jalapeño slices on the griddle and arrange shredded cheddar and mozzarella cheese in a line, twice the length of the burrito. Place the burrito on one end and let the cheese cook until melted. Turn with the spatula and allow to become crispy. Serve with salsa and guacamole. Repeat the process with the other tortillas, serve and enjoy!