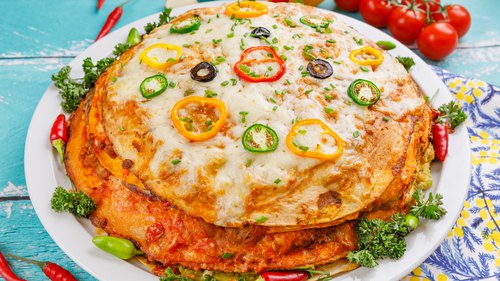 Hot Quesadillas
Hot Quesadillas! They are literally fire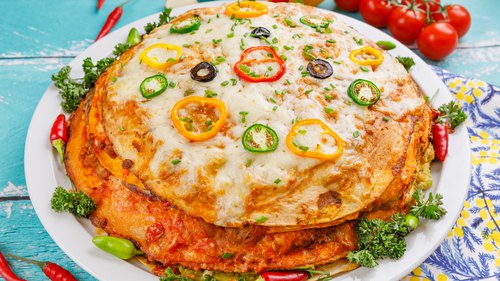 ---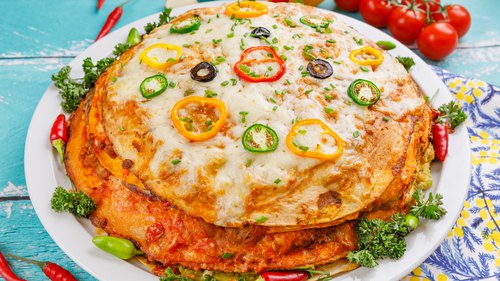 ---
Total time: 40 minutes
Prep time: 10 minutes, Cook time: 30 minutes
Ingredients for 8 people
8 oz of guacamole
Salt & pepper
12 oz of shredded cheddar
5 black olives
1 onion
1 tbsp of chefclub bbq spice mix
2 tbsp of butter
2 jalapeños
1 1/4 cups of bell peppers
1 cup of sour cream
14 tortillas
7 oz of refried beans
3/4 lb of ground beef
12 oz of shredded mozzarella
Butter
Red chili flakes
1 1/4 cups of tomato sauce
Tomatoes
---
Step 1/3
Melt butter with the red chili flakes and add in the tomato sauce. Set aside.
Step 2/3
Assemble a 7-layer quesadilla using refried beans, cooked ground beef, guacamole, bell peppers, chopped onions, tomatoes, sour cream, salsa and both cheeses. Dip each tortilla in the buttery tomato sauce before stacking.
Step 3/3
Top it off with more cheese, tomatoes, olives, hot sauce and jalapeños. Bake 10 minutes at 350°F, serve and enjoy!