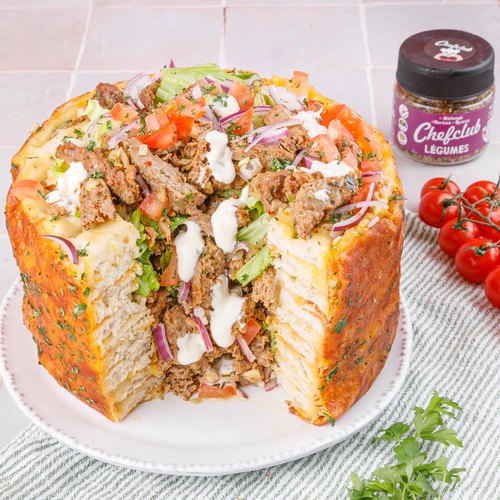 Shawarma Kebab Tower
Kebab Tower! Soar to great heights with this recipe 😄🥙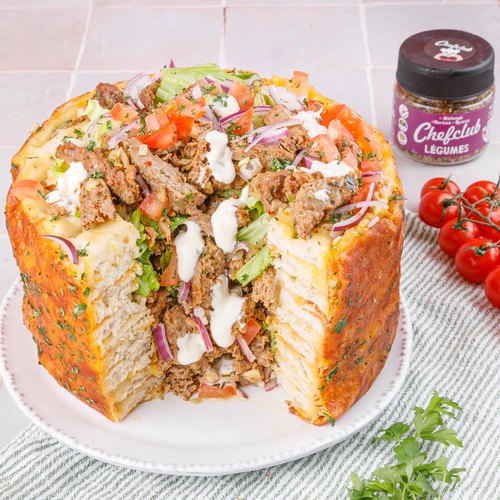 ---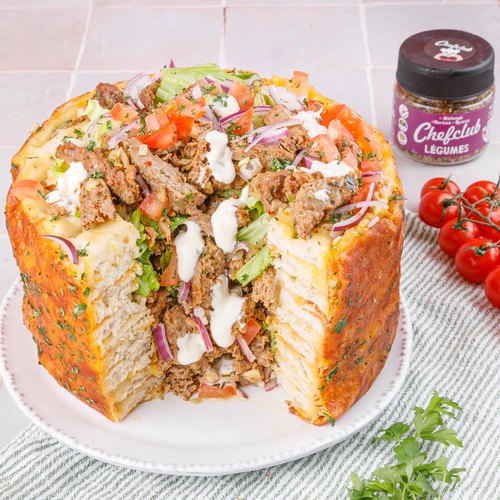 ---
Total time: 1 hour
Prep time: 40 minutes, Cook time: 20 minutes
Ingredients for 4 people
9 pita breads
1 cup of shredded cheddar
1 cup of shredded mozzarella
1 onion
1.1 lbs of ground beef
1 tbsp of chefclub ground beef spice mix
1 tomato
1 tbsp of white kebab sauce
1 tsp of parsley
1 red onion
---
Tools
Skewers
Parchement paper
Cookie cutter
Empty tin can
---
Step 1/4
Place the pita breads on the work surface, remove the center of the pita breads using the circular cookie cutter. Form a roll by overlapping the hollowed out pita breads. Mix the grated cheddar and the grated mozzarella. Pour the cheese mixture onto the plancha, forming a rectangle of cheese, let it cook and wrap the cheese crust around the roll of pita bread. Cut off the excess cheese and set aside.
Step 2/4
Cut the onion into pieces. Spread the ground beef in a rectangle on the parchment paper. Cut the ground beef meat into 3 strips. Sprinkle the onion with the Chefclub ground beef seasoning and roll the strips of ground beef on themselves. Place the ground beef rolls in an empty tin can. Press the ground beef down by using the end of the rolling pin. Bake for 20 minutes at 350°F.
Step 3/4
Unmold the meat from the can, insert 2 skewers into the ground beef and cut it into pieces. Fry it on a buttered griddle and season with the Chefclub ground beef spice mix. Stir while cooking.
Step 4/4
Cut the tomato and the red onion into pieces. Place the cooked meat in the space in the center of the roll of pita bread. Add the lettuce, tomato, red onion and pour the white sauce over the dish. Place the pieces of cheese set aside earlier. Sprinkle with parsley and enjoy!