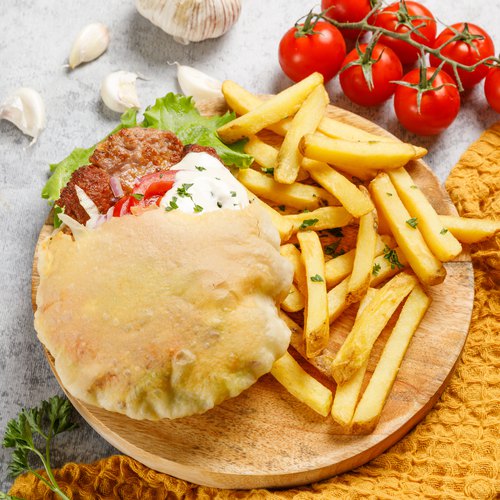 Crispy Kebab
Crispy Kebab! Perfect for munching & crunching 🥙😋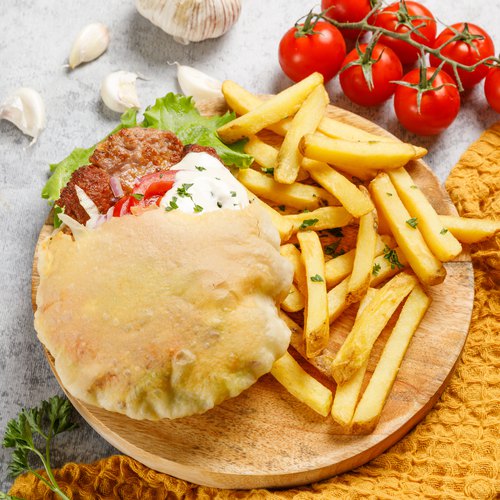 ---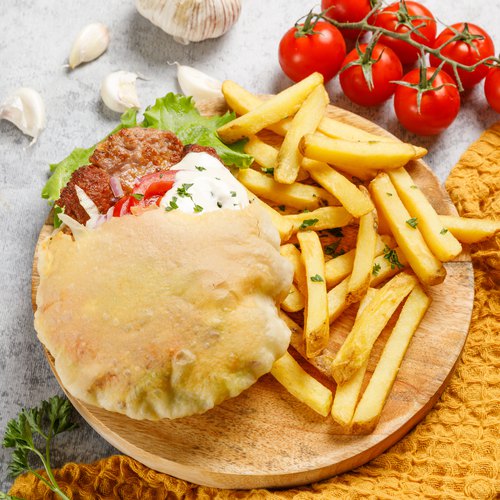 ---
Total time: 40 minutes
Prep time: 30 minutes, Cook time: 10 minutes
Ingredients for 3 people
3 cups of flour
1 tsp of salt
2 merguez sausages
2 tbsp of butter
2 sausages
Frying oil
1 red onion
3 tomatoes
1 red bell pepper
White kebab sauce
Salad
Chives
---
Tools
Rolling pin or metal rod
parchment paper
---
Step 1/4
Mix the flour, 0.8 cup of boiling water and the salt to obtain a dough. Knead the dough and form a ball, then refrigerate for 1 hour.
Step 2/4
Place the merguez sausages and regular sausage one next to the other on a sheet of parchment paper and flatten them in the middle using the Chefclub rolling pin to remove the meat from the sausages. Form balls with the meat and place them on a sheet of parchment paper. Butter the outer bottom of a salad bowl to flatten the balls of sausage meat to make patties. Repeat the process to obtain 4 patties and cook them for 10 minutes in a hot pan with butter, flip them over and set them aside.
Step 3/4
Take the dough out, divide it into several parts, then roll them out using the Chefclub rolling pin and fry in hot oil. Pour the hot oil over the top of the bread using the ladle, until they are puffed to form the kebab buns.
Step 4/4
Drain and place the buns on glasses, then cut their edges to create an opening. Cut the lettuce, the onion, the tomatoes and the pepper into pieces, garnish the buns with the cut vegetables, then add the steak, the white sauce and the chopped chives. Serve and enjoy!