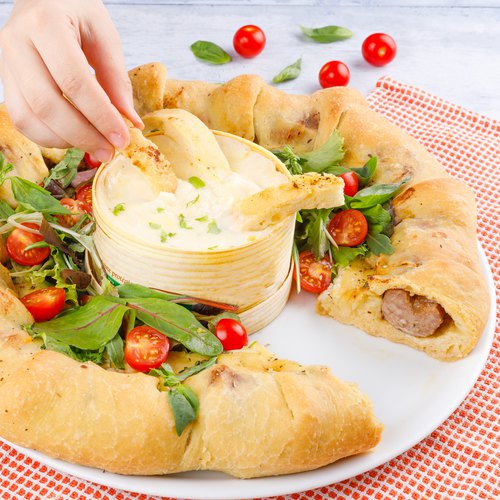 Sausage & Cheese Stuffed Pizza
Sausage & Cheese Stuffed Pizza! Finger food at its finest 😋 🧀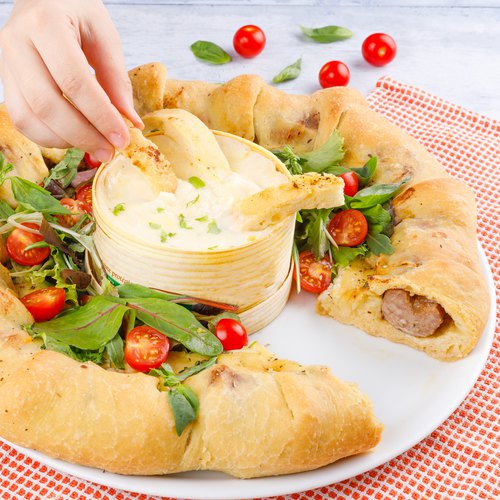 ---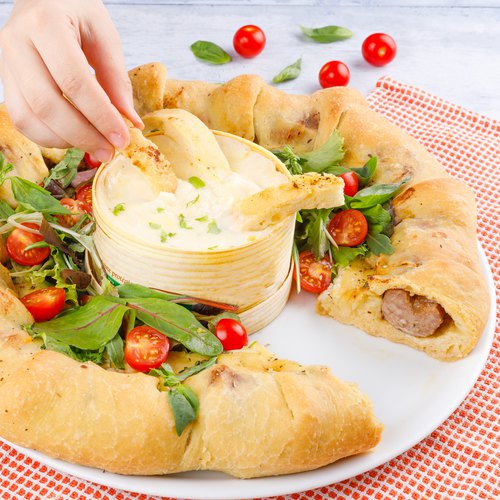 ---
Total time: 1 hour 5 minutes
Prep time: 40 minutes, Cook time: 25 minutes
Ingredients for 6 people
1 pizza dough
1 sausage
2 tbsp of herbes de provence
2 tbsp of paprika
2 tbsp of curry powder
1 tbsp of butter
3 tbsp of onion confit
1 mont d'or cheese
0.4 cup of white wine
2 cloves garlic
0.4 cup of olive oil
5 basil leaves
Thyme
Salad
Cherry tomatoes
---
Tools
Rolling pin or metal rod
parchment paper
---
Step 1/3
Sprinkle the sausage with herbs de Provence, the paprika and the curry. Cook each side of sausage in a buttered frying pan, cut a line along the entire length of the sausage and garnish with the onion confit. Dig a space in the center of the Mont-d'Or, pour the white wine into the space, make an incision on each side of the space in the center then place the garlic and thyme.
Step 2/3
Sprinkle the pizza dough with flour, roll it out with a rolling pin to obtain a circle. Place the garnished Mont-d'Or on a sheet of parchment paper, place the pizza dough on the Mont-d'Or, place the sausage around the edge of the pizza dough then fold the pizza dough over the sausage. Pour olive oil over the pizza dough, sprinkle the rest of the herbs de Provence and bake for 25 minutes at 370°F.
Step 3/3
Place the pizza on a plate, cut the dough around the Mont-d'Or and put it aside. Place the salad, the cherry tomatoes around the Mont-d'Or. Cut the dough dish set aside into strips, arrange them on the pizza, place the basil leaves and enjoy!