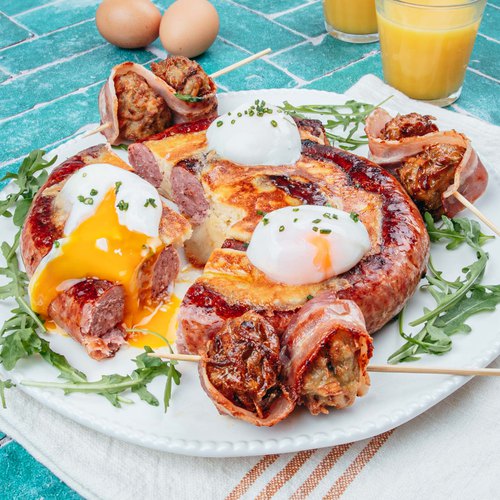 The All American Breakfast
The All American Breakfast! Rise & shine with this recipe 🙂☀️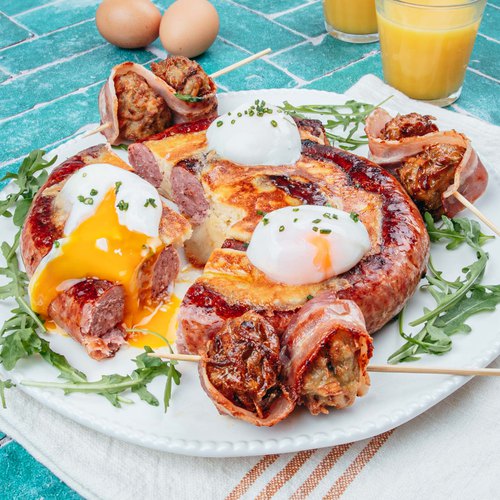 ---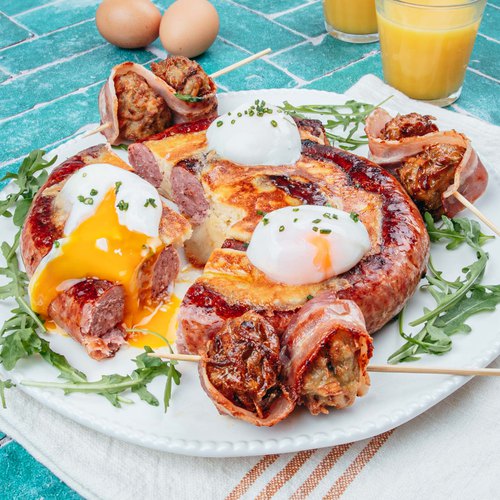 ---
Total time: 20 minutes
Cook time: 20 minutes
Ingredients for 3 people
4 egg
1 cup of flour
2 tsp of baking powder
4 tsp of sugar
Salt
1/4 cup of milk
1 tbsp of butter
1 sausage
1 tbsp of maple syrup
6 slices of bacon
18 hash brown balls
---
Step 1/5
Place 3 eggs in a bowl and pour boiling water over them. Cover with cling wrap and cook for 12 minutes.
Step 2/5
Sear the sausage in a frying pan on both sides then cook it in the oven for 20 min at 350°F.
Step 3/5
In a bowl mix the flour, baking powder, sugar, salt, milk, butter and 1 egg. Once the sausage is out of the oven, put it back in the pan. Pour the pancake mixture over it. Cook the sausage and add a little water before putting the lid on.
Step 4/5
On skewers, put the balls of hash browns and successively prick the bacon (while making zigzags).
Step 5/5
Serve the sausage, hashbrown skewers and eggs on a plate. Drizzle with maple syrup. Enjoy!