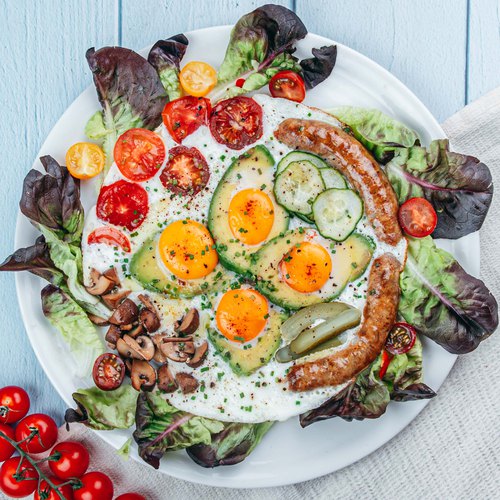 Eggcentric Breakfast Platter
Eggcentric Breakfast Platter! A complete and delicious way to start the day 😉☀️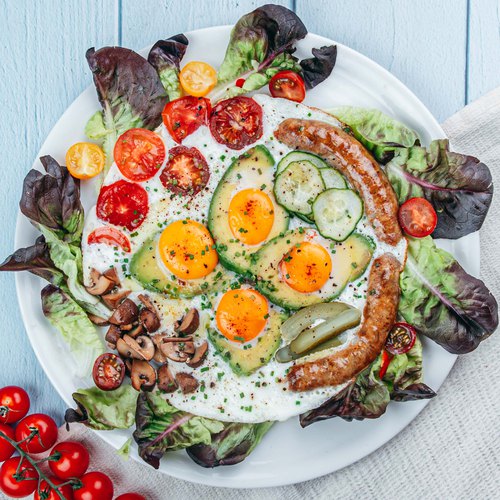 ---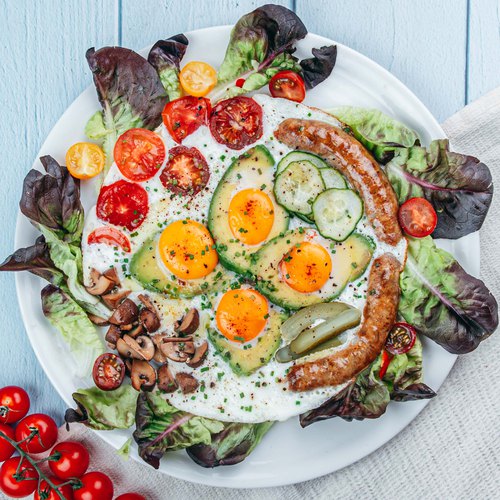 ---
Total time: 40 minutes
Cook time: 40 minutes
Ingredients for 6 people
1 bread
3 1/2 oz of cheddar
7 slices of bacon
1 cup of cucumber
1 avocado
1 pickle
1 tomato
2 oz of mushrooms
2 sausages
4 egg
Salt & pepper
Chives
---
Step 1/3
Form 4 spaces in the loaf of bread. Cut a slice of cheddar, wrap the bacon around the cheddar, cut in half and cook on the grill. Place them vertically in one of the spaces of the loaf of bread. Repeat the process to have 4 sticks of cheddar and bacon.
Step 2/3
Separate the whites from the yolks. Cut the avocado, cucumber and pickle into strips. Cut the tomato into slices, the mushrooms into pieces, cook the tomato, mushrooms, sausages in a frying pan. Add the egg whites to the center of the pan, place 4 slices of avocado in the center forming a star, place the cucumber, the pickle and arrange the egg yolks in the space in the center of the slices of avocado. Season with salt and pepper. Sprinkle with chives and cook until done.
Step 3/3
Place the fried egg on a plate, cut the sandwich bread with the cheddar slices, arrange them around the egg and enjoy!