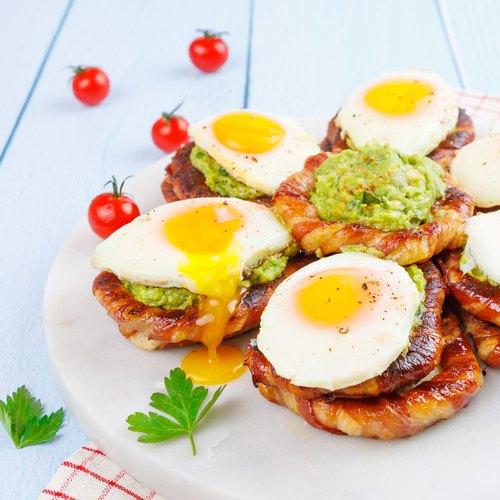 Flowery Egg & Avocado Toast
Flowery Egg & Avocado Toast! Spring into this seasonal dish 😚🌺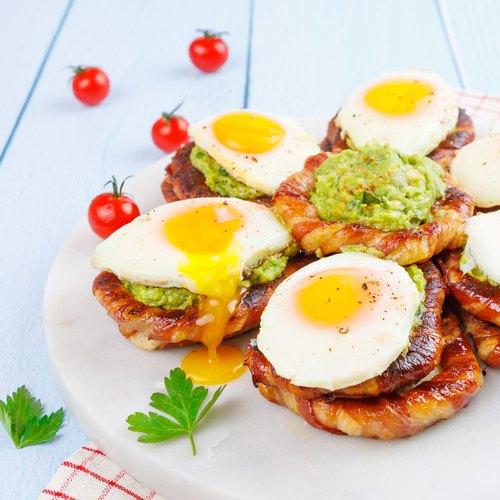 ---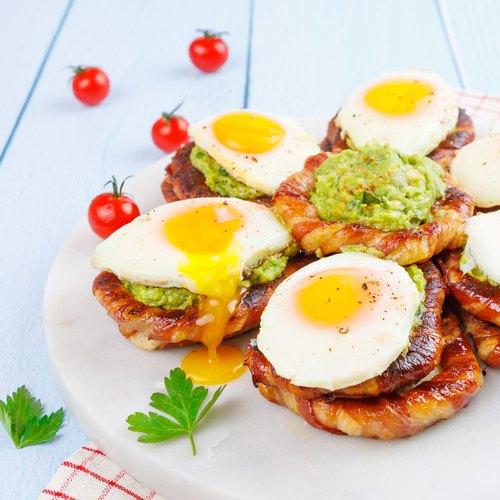 ---
Total time: 1 hour 15 minutes
Prep time: 35 minutes, Cook time: 40 minutes
Ingredients for 5 people
3 avocados
6 egg
1 tbsp of chefclub guacamole mix
1 tbsp of coriander
1 tbsp of olive oil
14 slices of bread
1 tbsp of lemon juice
26 slices of bacon
1 pinch of pepper
---
Tools
parchment paper
---
Step 1/3
Cut the avocados in half and remove the pits. Place a tea towel in a pan, pour boiling water into the pan to obtain a double boiler. Remove the skin from the flesh of the avocados and place the avocado skins on the tea towel to cook them in the double boiler. Place an egg in each avocado skin, cover the double boiler with a lid, leaving a space to let the steam pass through.
Step 2/3
Sprinkle the avocado flesh with the Chefclub guacamole spices, the chopped coriander, the olive oil and the lemon juice. Mash the avocados to obtain a guacamole. Cut the sandwich bread into a rectangular spiral, cut a strip of sandwich bread, crush it to firm it and wrap 2 slices of bacon around the strip of sandwich bread. Wrap the strip of bread and bacon around the rest of the spiral of bread, forming an oval. Repeat the process 5 times and assemble the petals of sandwich bread on a baking sheet covered with parchment paper to obtain a flower. Place a final spiral of sandwich bread in the centre. Bake for 20 minutes at 350°F. Repeat the process without the sliced bread spirals in the center of the bacon ovals.
Step 3/3
Arrange the flower of sandwich bread and bacon on a plate. Superimpose the other ovals of bacon on the flower. Fill the spaces in the bacon bits with the guacamole. Place the eggs on the guacamole, season with a pinch of pepper and enjoy!