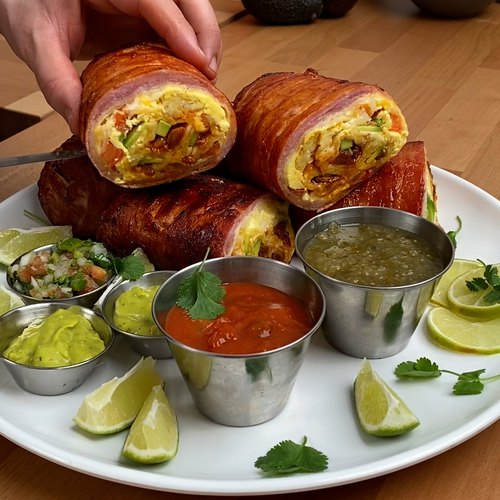 Cinco de Mayo Breakfast Burrito
Start your fiesta right 🎉🌯🥑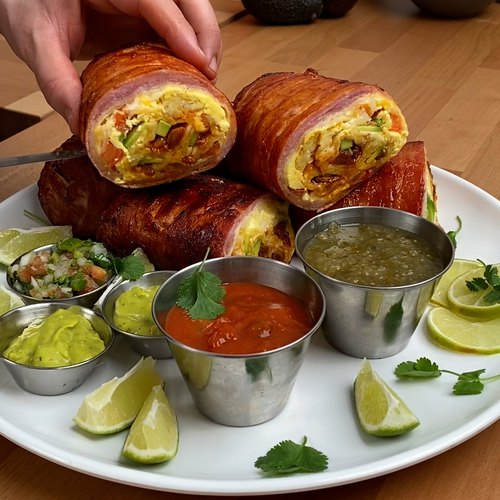 ---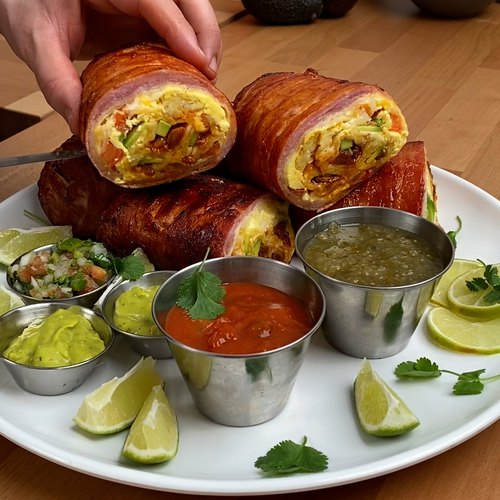 ---
Ingredients for 6 people
1 cup of shredded colby jack cheese
2 avocados
1/2 cup of cooked chorizo
4 eggs
1/4 cup of heavy cream
salt
olive oil
2 tomatoes
1 onion
10 cooked tater tots
salsa
60 slices of bacon
---
Tools
Parchment paper
Electric griddle
---
Step 1/4
Form the shredded colby jack cheese into a rectangle on a parchment lined baking and then place in the oven and bake for 10 minutes at 350 °F. Remove from the oven, cut into 6 sections, place avocado slices and chorizo on each square, and roll. Set aside.
Step 2/4
Next whisk the eggs, salt, and heavy cream together and scramble the eggs in a frying pan with a touch of olive oil. Keep warm on low heat.
Step 3/4
Place a handful of shredded colby jack cheese, 5 avocado slices, half of the scrambled eggs, diced tomatoes, chopped onions, tater tots, 3 taquitos, and salsa. Roll the burrito and repeat with a second flour tortilla.
Step 4/4
Next roll each burrito in 30 slices of bacon as seen in the video and brown all sides of the burrito on an electric griddle until the bacon is cooked through. Cut in slices and serve with salsa. Enjoy!