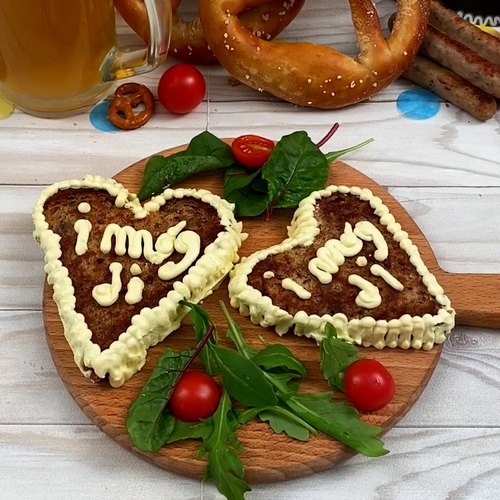 Hacks for An Epic Oktoberfest
Just add lederhosen!🍻🥨🍺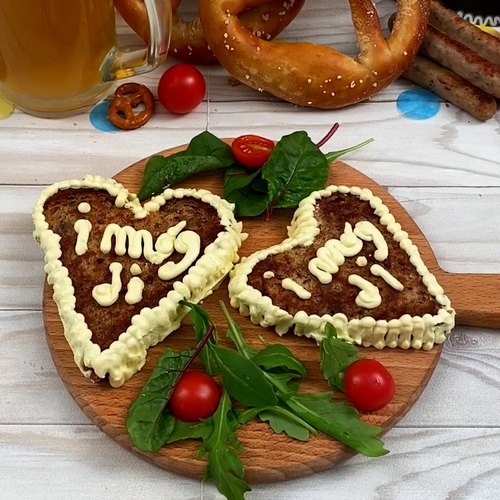 ---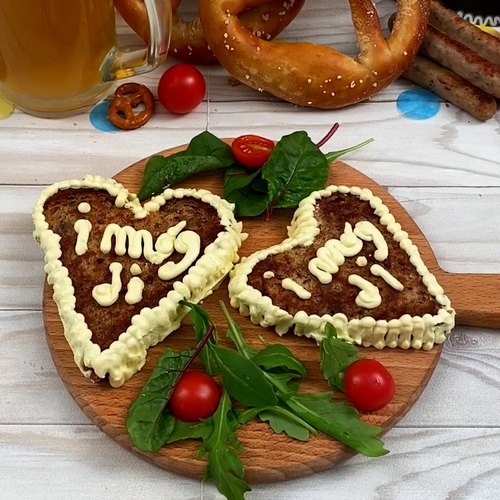 ---
Ingredients for 4 people
soft pretzel dough
salt
1/2 onion, chopped
sausage pasta salad
1 tbsp of garlic powder
eggs
1/2 tbsp of paprika
1/2 cup of milf
pork roast
olive oil
pretzel sticks
1/4 cup of butter
sugar
cupcake liners
beer
ice cream
bacon
fontina cheese
spätzle
fried onions
breakfast sausage
sweet mustard
whole wheat bread
spiced cream cheese
prosciutto
jack cheese
ham. diced
soft cheese wedge
glass
bologna
potato salad
red cabbage
pickles
white chocolate
oreos
---
Tools
Small bowl
Plastic wrap
Skewers
Kitchen twine
---
Step 1/8
PRETZEL BOWLS: Wrap pretzel dough around the bottom of a small bowl. Sprinkle with salt and bake in the oven for 12 minutes at 350 °F. Fill with your favorite German-inspired salad and Enjoy!
Step 2/8
ROAST PORK WITH PRETZEL STUFFING: Crumble up cooked soft pretzels. Mix in onion, garlic, salt and pepper, 4 eggs, paprika powder, and milk until a dough forms. Carve small grooves into the top of the pork roast and stuff the inside with the pretzel mixture. Brush on a mixture of olive oil, salt, pepper, garlic powder, and paprika. Roast in the oven for one hour at 350 °F. Cut a slice and enjoy!
Step 3/8
BEER-INFUSED ICE CREAM CUPS: Crumble pretzel sticks and mix with butter and 1/4 cup of sugar. Press the mixture into cupcake liners. Bake in the oven for 15 minutes at 335 °F. In a small saucepan over medium heat, mix 5 egg yolks with 1 cup of sugar. Add beer and bring to the boil. Slowly mix the beer mixture into the ice cream. Freeze until solid. Spoon the cream into the pretzel cupcakes. Add salted pretzels and enjoy.
Step 4/8
BACON-WRAPPED SPÄTZLE: Line up the bacon on a plastic wrap. Add rows of Fontina cheese, spätzle, and fried onions. Use the plastic wrap to roll-up the bacon. Bake for 20 minutes at 350 °F. Slice it up and enjoy!
Step 5/8
SAUSAGE PRETZEL STICKS: Place a breakfast sausage on a skewer. Spiral cut around the sausage. Wrap soft pretzel dough it around the skewer. Bake in the oven for 12 minutes at 335 °F. Dip in sweet mustard and enjoy.
Step 6/8
HOT HAM & CHEESE HEARTS: Cut out hearts from wholemeal bread and spread with spiced cream cheese. Cover with ham, bacon, pickles, fried onion and jack cheese. Bake in the oven for 5 minutes at 300 °F. Then decorate with soft cheese wedge.
Step 7/8
EGG & BOLOGNA SANDWICH: Use a glass to cut out a circle from the bologna and place both pieces in a frying pan. Break an egg in the one with a hole, then cover with a lid. When the egg is cooked, place potato salad, red cabbage, and pickles on top. Top the bologna circle. Sprinkle with fried onions and enjoy.
Step 8/8
WHITE CHOCOLATE DIPPED PRETZELS: Dip pretzel sticks in melted white chocolate and sprinkle with Oreo crumbs. Thread on a string.