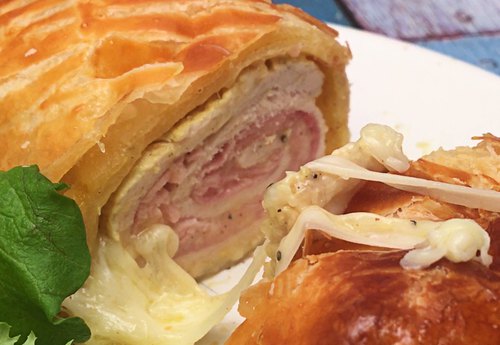 Chicken Pies
Now everyone can have their fair share with these individual beauties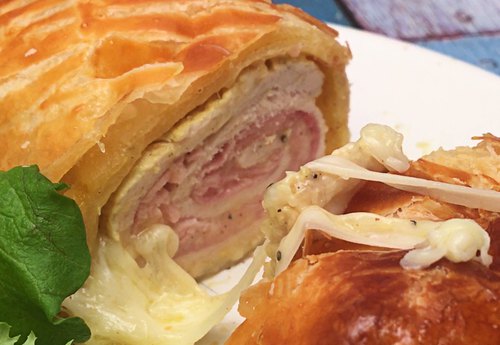 ---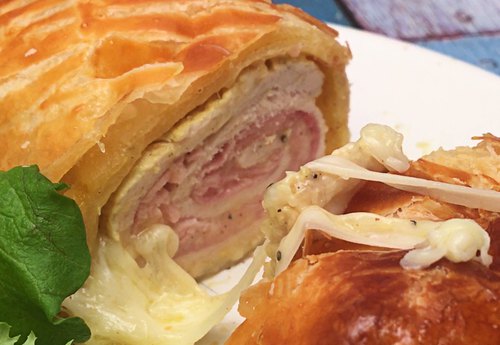 ---
Ingredients for 4 people
4 chicken breasts
4 slices of ham
8 slices of emmental cheese
2 puff pastry sheets
3 tbsp of mustard
2 egg yolks
1 tsp of garlic granules
salt and pepper
---
Step 1/4
In a bowl, combine the chicken breasts with garlic, salt and pepper. Wrap the chicken in plastic wrap and flatten them with a rolling pin.
Step 2/4
Place onto each chicken breast half a slice of ham, a slice of emmental cheese, the other half of the piece of ham, and another slice of emmental cheese Roll the chicken breasts up and tighten the plastic wrap to make 4 sausages.
Step 3/4
Cut the pastry sheets in 2, spread the mustard over the top and place a chicken roll on each. Fold the pastry over the chicken and seal the edges by pressing the pastry together with your fingers. Arrange the wellingtons on a baking tray lined with parchment paper, and brush them with egg yolks. Then use a fork to draw lines on the top of the pastry.
Step 4/4
Bake for 18 minutes at 350°F and enjoy hot.
Similar recipes from Chefclub
-
Our other recipes