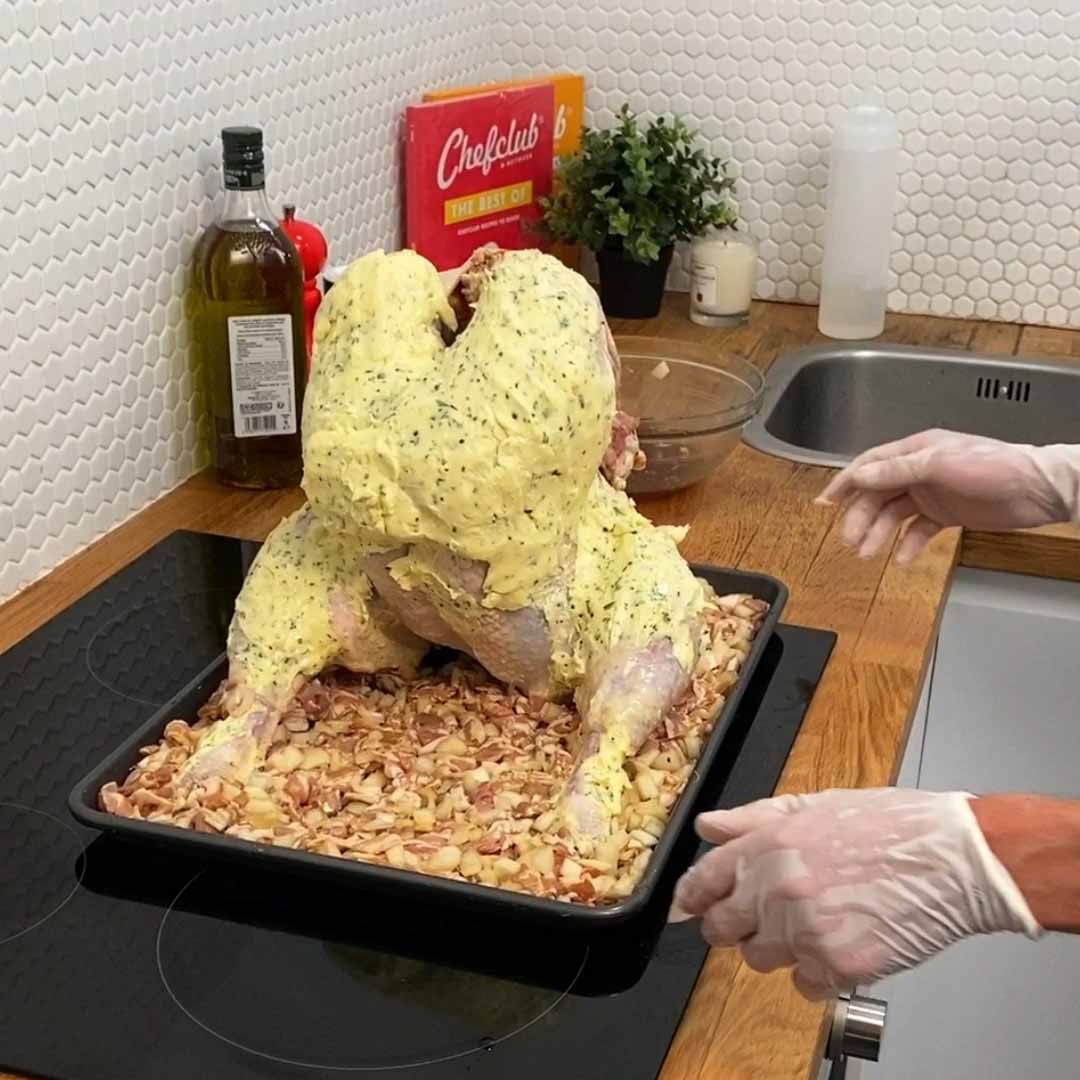 Extra Juicy Turkey
With a brilliant DIY beer-can stand! 😁
Total time: 60 minutes
Ingredients for 8 people
9 24 oz cans of Guinness beer
1 tbsp parsley
2 garlic cloves, minced
1 tbsp dried rosemary
1 tbsp dried thyme
1 tbsp dried sage
5 lb butter
1/4 cup parsley
1/2 cup white wine
1 cup sugar
1 cup salt
3 onions, chopped
2 lb bacon
Water
---
Tools
Piping bag
Lamp
Can opener
Scissors
Baking tray
---
Step 1/3
Make a brine by mixing together the 8 cans of beer, sugar, onions, salt, herbs, 1 lb of chopped bacon, and enough bacon to fill half of a large container. Add the turkey and let marinate overnight.
Step 2/3
Mix together the garlic, parsley, white wine, and butter, then fill the piping bag. Separate the skin from the meat of the turkey, then use the piping bag to insert butter between the skin and meat ensuring that the butter is evenly spread out over the turkey. Let chill.
Step 3/3
Remove all the components of the lamp so that only the lamp base remains. Use the can opener to remove the top of one of the empty cans of beer, then cut off the top half of the can. Fill the can with Guinness and place it in the lamp base and set on a baking tray. Carefully, place the turkey onto the lamp base. Cover the baking sheet with the rest of the bacon. Bake for 15 minutes for every pound of meat at 350 °F or until a meat thermometer reads 165 °F at the thickest part of the turkey. Let rest before enjoying!