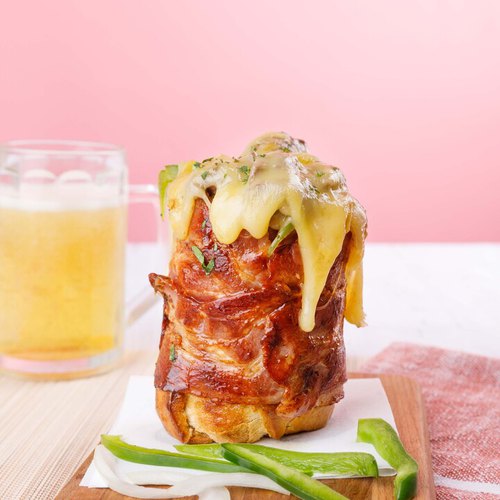 Philly Fondue Steak
Philly Fondue Steak! Your mouth will be happy to meat this recipe 😋🧀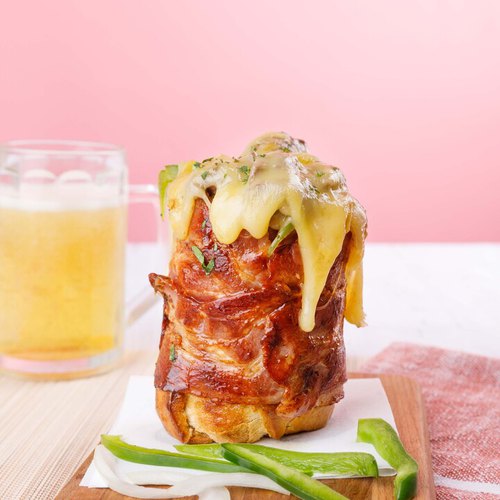 ---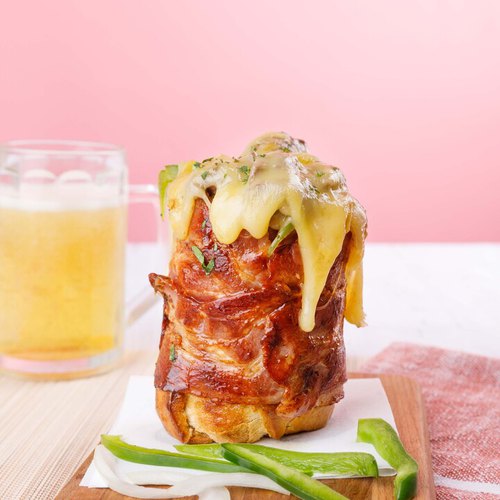 ---
Total time: 45 minutes
Cook time: 45 minutes
Ingredients for 4 people
1 french baguette
3 tbsp of butter
12 slices of bacon
1 lb of flank steak, thinly sliced
Salt & pepper
1 onion
1 green bell pepper
1 beer (optional)
1/4 lb of swiss cheese
1 tbsp of parsley
---
Step 1/4
Cut the baguette into 4 pieces, removing the pointed ends so that each piece has 2 flat sides. With a beer bottle or rolling pin, push down the insides of each piece of bread. Heat the griddle over medium-high heat. Add 1 tablespoon of butter to the heated griddle, then toast the bread on all sides. Remove the bread from the heat once toasted and allow it to cool slightly. Wrap each baguette in three pieces of bacon. Return the bacon-wrapped bread to the griddle and cook the bacon on all sides. Remove the bacon baguettes from the heat and set aside.
Step 2/4
Add 1 tablespoon of butter to the heat, add the peppers and onions and cook until the onions are translucent and the pepper has softened. Optional: pour one bottle of beer over the cooked peppers and onions and allow it to evaporate. Remove the cooked vegetables from the heat.
Step 3/4
Add the remaining butter to the griddle and allow to melt. Add the sliced steak and season with salt and pepper to taste. Cook to your liking, then remove from the pan.
Step 4/4
In each baguette, add peppers, onions and steak. Add melted cheese to the tops of the stuffed baguettes (you can heat the oven to 325°F, add the sandwiches to a baking sheet, cover each baguette with a slice of cheese and bake until the cheese has melted). Sprinkle with fresh herbs and enjoy!