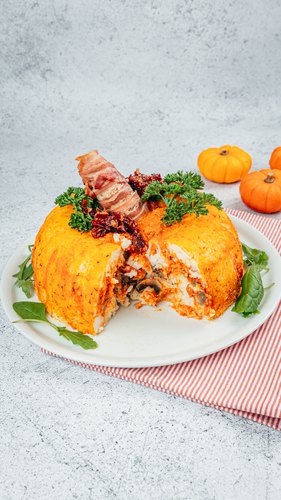 Plump Pumpkin Risotto
Plump Pumpkin Risotto! The generous recipe you deserve 🎃🍁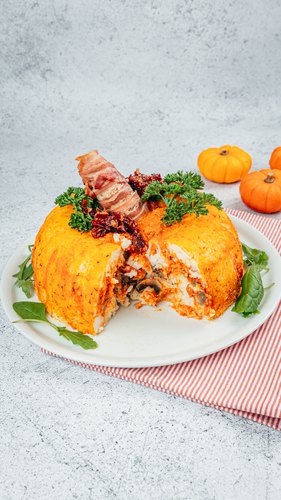 ---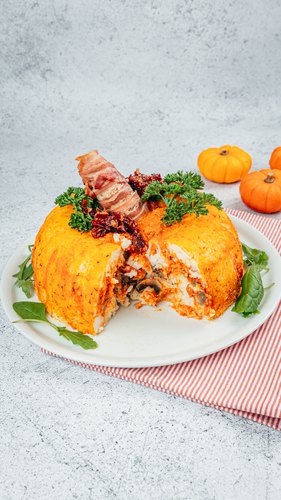 ---
Total time: 1 hour 30 minutes
Cook time: 1 hour 30 minutes
Ingredients for 6 people
1 red bell pepper
1 ice cream cone
1 tsp of oregano
4 cups of arborio rice
2 tbsp of butter
1 cup of breadcrumbs
16 bacon
Parsley
2 egg
1 onion
5 cups of stock
1 tsp of cinnamon
4 tbsp of olive oil
1 cup of heavy cream
Salt & pepper
15 oz of crushed tomatoes
1 cup of maple syrup
2 cloves garlic
1 mushroom
15 oz of pumpkin puree
1 cup of shredded mozzarella
---
Tools
Bundt pan
Immersion blender
---
Step 1/6
Heat 2 tbsp of the olive oil in a large sauce pot over medium heat. Add the onion, red bell pepper and a couple pinches of salt. Cook until the onions and pepper are tender, about 6 to 8 minutes. Add the garlic, oregano, and cinnamon. Add the tomatoes and the pumpkin purée. Allow to simmer for 5 minutes, then add the heavy cream. Remove from the heat and allow it to cool slightly. Blend until smooth. Heat the remaining olive oil in the sauté pan over medium heat. Add the sliced mushrooms and allow to cook. Set aside.
Step 2/6
In a large pot over medium-high heat, add the arborio rice and stock. Stir to combine. Add salt, reduce the heat to low, then simmer covered for about 15 minutes. Remove the rice from the heat, place in bowl and allow to cool 10 minutes. Preheat the oven to 400°F. Add the eggs, 1/2 cup of mozzarella, and about 1/2 cup of the pumpkin sauce to the rice. Stir well to combine. Butter the interior of the bundt pan, then add the breadcrumbs to coat the sides.
Step 3/6
Line the bundt pan with the rice mixture until there it is about 1/2 inch from the top of the pan. Add the sautéed mushrooms, the remaining mozzarella and all but 1 cup of the remaining sauce. Top with the remaining rice mixture. Add the reserved breadcrumbs on top. Bake for about 30-35 minutes.
Step 4/6
Dice all but 4 of the bacon slices. Heat the sauté pan over medium heat, then add the diced bacon. Cook until browned and crisp. Drain the pan of the oil, then add the maple syrup. Lower the heat and stir continually until the syrup has fully coated the bacon pieces and the liquid has evaporated. Remove from the heat and transfer the maple bacon pieces to parchment paper. Form the maple bacon pieces into leaf shapes and allow to cool.
Step 5/6
Wrap an ice cream cone in parchment paper. Wrap the remaining 4 pieces of bacon around the cone so that the pieces overlap. Place on a parchment lined baking sheet and bake until the bacon is crispy, about 15 minutes. Remove from the oven and set aside.
Step 6/6
Once the rice is fully cooked, remove it from the oven and allow it to cool slightly. Turn the it upside down onto a serving plate. Fill the center with the remaining sauce. Add the bacon cone and the maple bacon leaves on top. Garnish with parsley. Serve and enjoy!