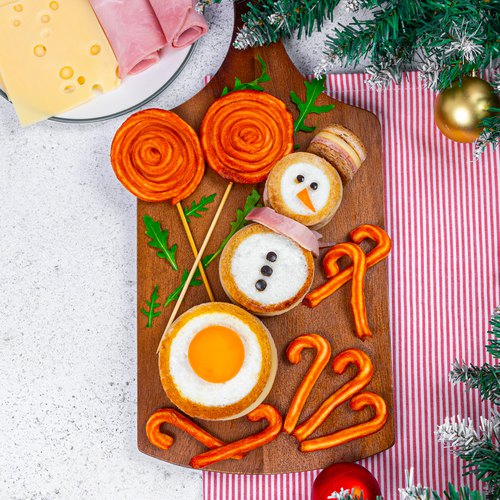 The Snowman Sandwich
The Snowman Sandwich! Go on, it's snow good ☃️🥪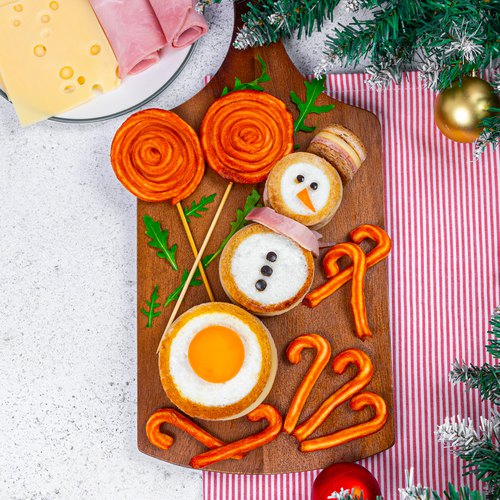 ---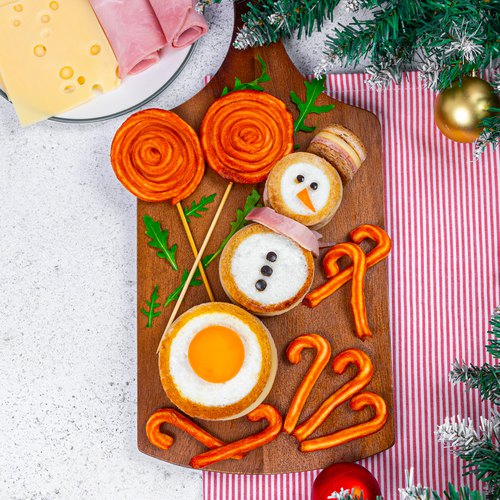 ---
Total time: 25 minutes
Prep time: 15 minutes, Cook time: 10 minutes
Ingredients for 2 people
2.2 lbs of potatoes
3 egg
3/4 cup of cornstarch
Paprika
Oil
8 slices of bread
6 tsp of bechamel sauce
3 slices of ham
6 slices of cheese
Butter
2 black olives
1 carrot
Salad
Cherry tomatoes
Salt & pepper
---
Tools
Skewers
Piping bag
Small round cookie cutter
---
Step 1/3
Cook the peeled potatoes in a pan of boiling water and mash them in a bowl. Add 2 eggs and the cornstarch. Divide the mashed potatoes in 2 and color one part with paprika. Put the mashed potatoes in a piping bag. Pipe the mashed potatoes into a candy cane shape on the spatula. Fry in hot oil and set aside.
Step 2/3
Cut circles of different sizes in the sandwich bread using round cookie cutters, then cut smaller circles inside to obtain rings. Arrange them on a buttered griddle and toast them on each side. Pour the white of an egg in the center of the sandwich bread circles and place the egg yolk on the larger bread circle. Spread the béchamel on the slices of bread, cut the slices of ham and Emmental cheese into circles and arrange them on the béchamel. Layer 1 sandwich circle, 1 Emmental cheese circle and 1 ham circle. Top them with the circles of sandwich bread with eggs. Make a mini sandwich to create the hat.
Step 3/3
Arrange the 3 sandwiches to form a snowman, add the mini sandwich to form the hat, add circles of black olives and carrots cut into triangles for the eyes and nose. Create the buttons with the remaining black olives and form the scarf with a strip of remaining ham. Serve with lettuce and cherry tomatoes. Season with pepper and salt, add the candy cane fries and enjoy!