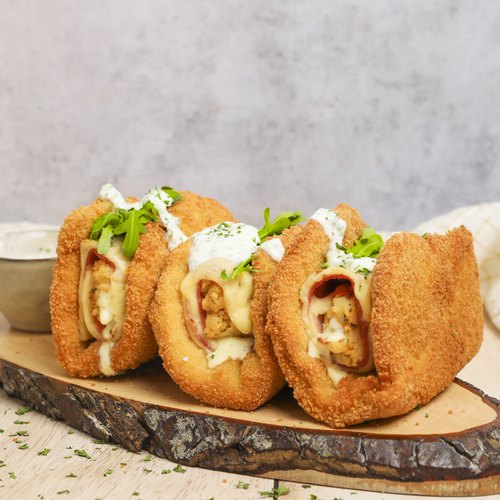 Cordon Bleu Taco Style
Cordon Bleu Taco Style! Get creative for dinner with a fun new mash-up of classics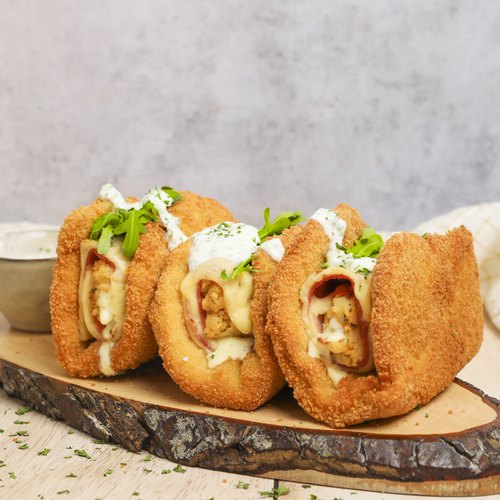 ---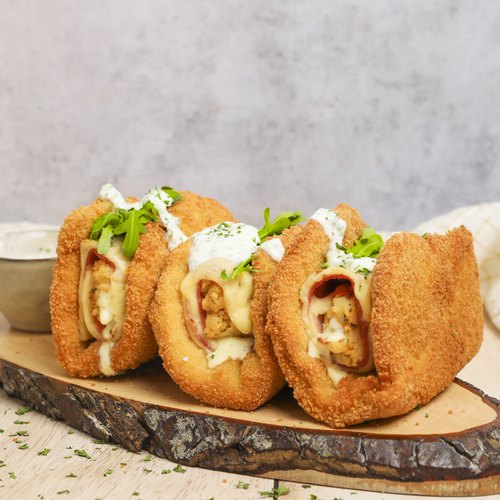 ---
Total time: 2 hours 25 minutes
Cook time: 25 minutes, Rest time: 2 hours
Ingredients for 5 people
5 chicken breasts
8 egg
2 breadcrumbs
1 cup of milk
1 cup of flour
1 tbsp of butter
10 edam cheese
5 ham
Spices
Olive oil
Oil
Bechamel sauce
Salad
3 baked potatoes
---
Tools
Ziplock bag
parchment paper
Meat tenderizer
Rolling pin or metal rod
Cling wrap
---
Step 1/4
To prepare the chicken, make a lengthwise incision in the center of the breasts to enable them to be flattened. Tenderize them by placing them in a freezer bag. Flatten them further by sandwiching them between two sheets of parchment paper and using a rolling pin. Coat them in flour, beaten eggs, and breadcrumbs.
Step 2/4
Place the chicken breasts on a sheet of plastic wrap, then cover them with a smaller tray. Fold the chicken breasts over the top of the tray and leave them in the freezer for 2 hours to take on a taco shape. To make the béchamel sauce, gradually mix the milk with flour and butter in a saucepan until smooth.
Step 3/4
Cut the potatoes and place them in a bowl, sprinkle with spices, add salt, and mash them. Drizzle with olive oil and continue to mash. Place 2 slices of Edam cheese end-to-end vertically, then cover with a slice of ham of the same size. Place 1 tablespoon of mashed potatoes and make a hollow in the center. Pour béchamel sauce into the hollow and cover with mashed potatoes. Roll up the Edam cheese and set aside. Repeat the process to obtain 4 rolls.
Step 4/4
Fry the chicken in hot oil until golden brown. Place 1 Edam cheese roll in the center of each cutlet and bake for 15 minutes at 350°F. Serve with salad and sauce, enjoy!