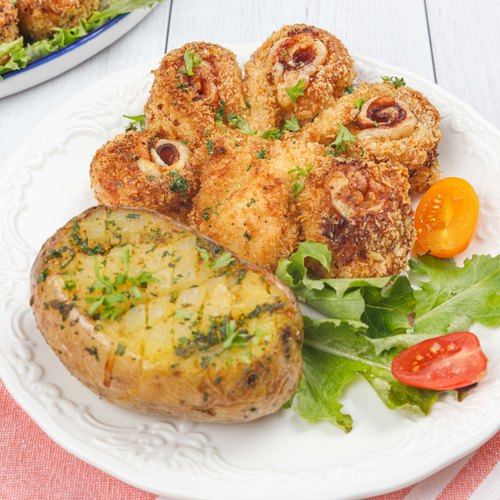 Blue Ribbon Chicken
Blue Ribbon Chicken! This recipe is a sure winner 🧀🍗😋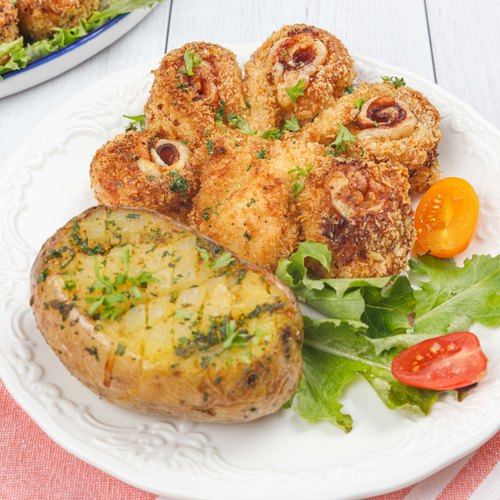 ---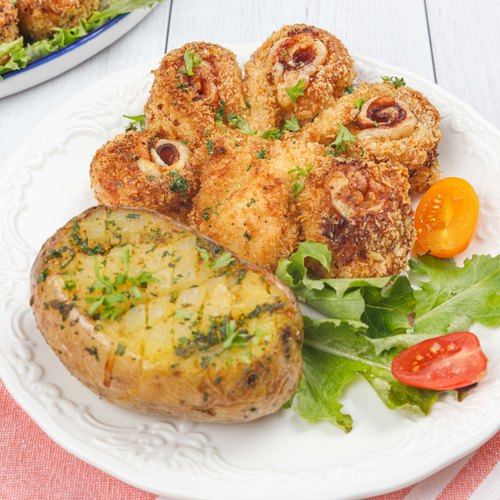 ---
Total time: 1 hour 55 minutes
Prep time: 35 minutes, Cook time: 50 minutes, Rest time: 30 minutes
Ingredients for 3 people
5 tbsp of butter
1 tbsp of chefclub vegetable spice mix
3 potatoes
3 chicken breasts
3 slices of ham
3 slices of cheese
all purpose flour
egg yolks
breadcrumbs
parsley
---
Tools
Ziplock bag
Baking sheets
---
Step 1/3
Place the butter in a freezer bag, sprinkle with the parsley and Chefclub vegetable spices. Mix well to incorporate the spices into the butter. Flatten the butter and form a grid by pressing lightly on the butter. Refrigerate the butter for 30 minutes. Wrap the potatoes in aluminum foil then bake them for 25 minutes at 350°F.
Step 2/3
Remove the aluminum foil from the potatoes and cut them in 2. Form a grid on each inner side of the potatoes. Allow a slice of spiced butter to melt on each potato half, then set aside. Place the chicken breasts on the cutting board and cut strips over ¾ of the chicken breasts. Sprinkle with flour, dip in egg yolks, sprinkle with breadcrumbs and place on a baking sheet.
Step 3/3
Place the slice of ham on the work surface. Place the a slice of cheese on top then roll up the slice of ham. Cut the ham rolls into 5. Place each piece at the ends of the strips of chicken breasts then wrap the strips around the ham and cheese rolls. Bake for 25 minutes at 350°F. Serve the cordon bleu and the potatoes on a plate. Enjoy!