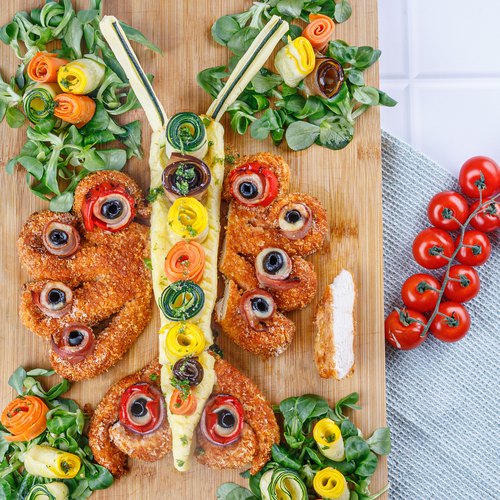 Stuffed Chicken & Mashed Potatoes
Stuffed Chicken & Mashed Potatoes! In the shape of a butterfly, to delight the whole family 🦋😋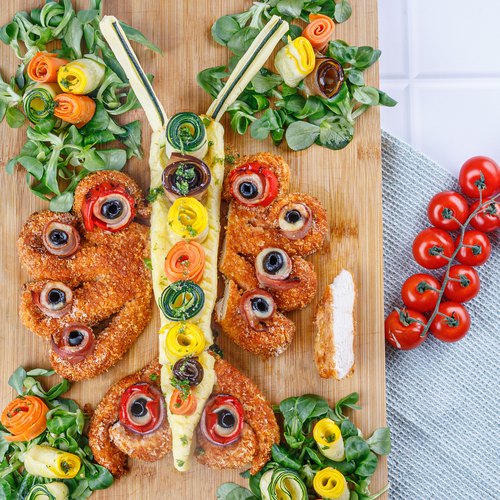 ---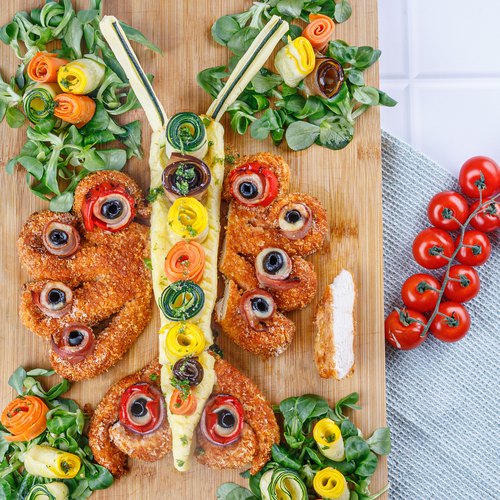 ---
Total time: 1 hour 5 minutes
Prep time: 45 minutes, Cook time: 20 minutes
Ingredients for 3 people
3/5 cup of potatoes
4 tbsp of milk
1 tbsp of sour cream
1 carrot
1 zucchini
1 yellow zucchini
1 eggplant
Parsley
1 clove garlic
2 tbsp of oil
3 chicken breasts
6 tbsp of flour
3 egg yolks
3/5 cup of breadcrumbs
1 slice of ham
1 slice of emmental cheese
10 black olives
---
Step 1/4
Peel and cut the potatoes into pieces, cook them in 1 liter of salted water, mash the potatoes, mix them with the milk until you get a smooth consistency. Add the sour cream, mix again and form a sausage-shape of mashed potatoes.
Step 2/4
Cut the carrot, zucchini, yellow zucchini and eggplant into thin slices. Cut the parsley, garlic into pieces, mix them with oil. Line up the vegetable slices, brush them with the oil mixture, roll the slices up on themselves to form rolls. Hollow out the center of the puree sausage using a spoon, place the vegetable rolls vertically in the center of the puree.
Step 3/4
Cut the chicken breasts to form strips without going all the way. Sprinkle them with flour, dip them in the egg yolks and sprinkle with breadcrumbs. Mold the chicken strips to form spirals. Place the chicken breasts on the baking sheet, placing 2 chicken breasts on each side of the tray and the last at the bottom to form the wings and tail of a butterfly. Cut the ham, Emmental and pepper into strips, layer the strips of pepper, ham and Emmental and wrap them around a black olive. Repeat the process to have 4. Wrap a slice of ham or Emmental around an olive, repeat the process to have 6.
Step 4/4
Place the rolls of red pepper, Emmental cheese and ham on the tail of the butterfly and at the start of the wings, place the other rolls of ham, Emmental cheese and black olive on the wings. Arrange the puree with the vegetable rolls in the center to form the body of the butterfly and bake for 20 minutes at 350°F. Place the cordon bleu butterfly and mashed potatoes on a plate and pour the rest of the oil mixture over the vegetable rolls. Serve and enjoy!