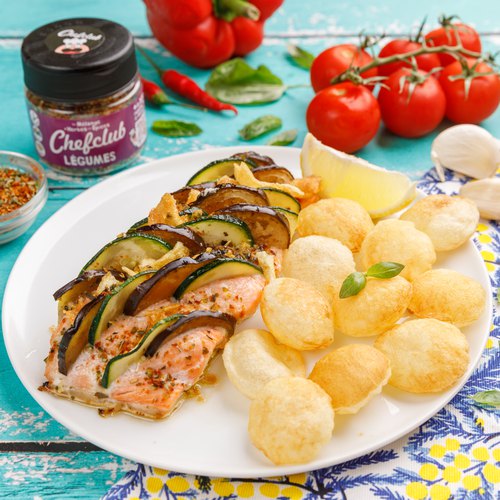 Baked Salmon & Veggies
Baked Salmon & Veggies! Just add some crispy potatoes 🐟🥒🥔🍽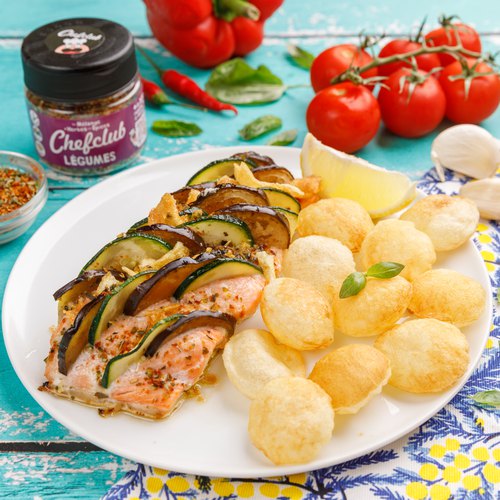 ---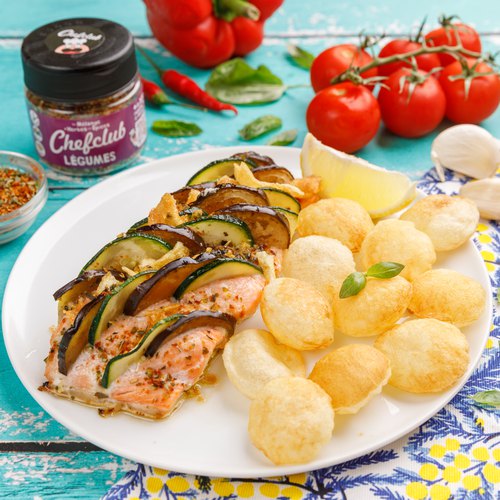 ---
Total time: 45 minutes
Prep time: 25 minutes, Cook time: 20 minutes
Ingredients for 2 people
3/5 lb of salmon
1 zucchini
1 eggplant
1 tbsp of chefclub vegetable seasoning
0.4 cup of olive oil
1 potato
2 egg whites
1 tbsp of potato starch (flour)
Frying oil
Lemon
---
Tools
Circular cookie cutter
---
Step 1/3
Remove the skin from the salmon by pouring hot water over it. Cut the salmon in 2 and make diagonal cuts on it. Cut the zucchini and eggplant into slices, layer a slice of zucchini and a slice of eggplant to obtain 6 rows of 4 slices, cut them in 2 lengthwise then insert the halves into the salmon cuts. Place the salmon on a baking sheet, sprinkle with Chefclub spices for vegetables, drizzle with olive oil and bake for 20 minutes at 350°F.
Step 2/3
Cut the potato into thin slices. Place 6 strips on the work surface and brush with egg white. On 3 slices, sprinkle the potato starch, brush with egg white then cover with the other 3 slices. Cut potato discs with a cookie cutter to obtain 14 discs and fry them in hot oil.
Step 3/3
Serve the salmon with a slice of lemon and add a fried potato over the salmon. Enjoy!