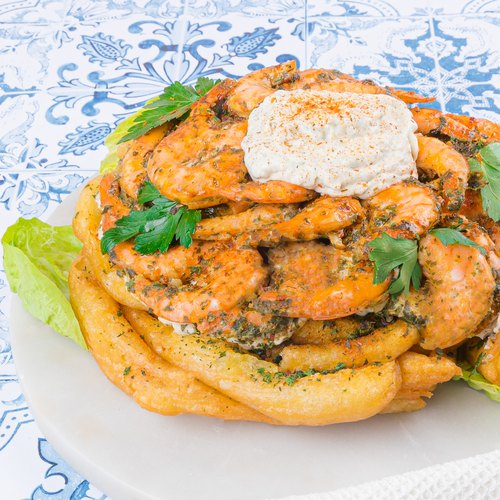 Baja Shrimp Funnel Cake
Baja Shrimp Funnel Cake! Keep it shrimple and try this new recipe 😁🦐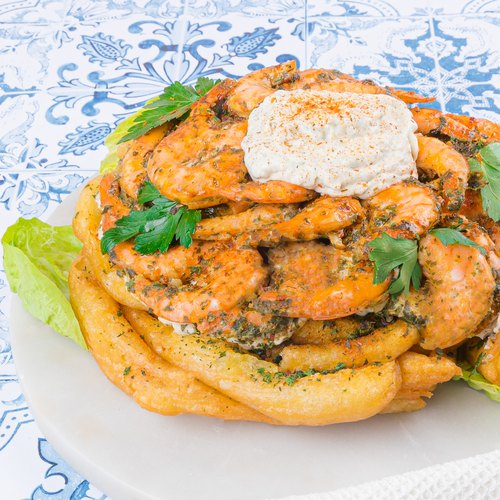 ---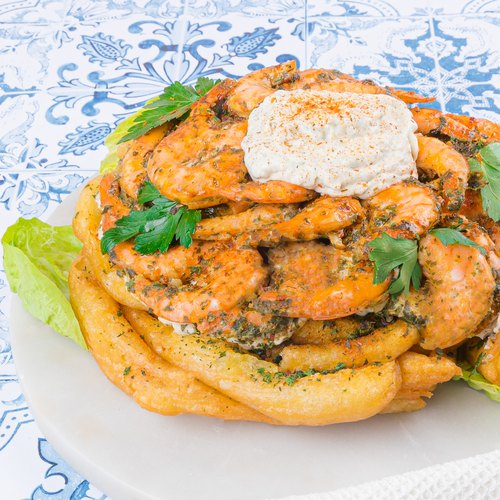 ---
Total time: 25 minutes
Prep time: 5 minutes, Cook time: 15 minutes, Rest time: 5 minutes
Ingredients for 4 people
2 cups of water
2 cups of butter
2 tbsp of old bay seasoning
2 cups of flour
4 egg
1 lb of shrimp
Tartare sauce
2 tbsp of parsley
1/4 tbsp of garlic powder
1 tsp of salt
1 tsp of paprika
1 tbsp of brown sugar
1 tbsp of lemon juice
---
Tools
Ziploc bag
---
Step 1/3
First add 1½ cup of butter, water and old bay spice to a sauce pot. Bring to a boil and then lower the heat to medium-low. Add in the flour and stir using a wooden spoon. Continue to cook for 4 minutes. Place the dough into a stand mixer with the whisk attachment. Turn on medium speed. Add the eggs 1 at a time while the mixer is going. Once mixed, set aside to let cool for 1-2 minutes before putting into a ziploc bag.
Step 2/3
Take the ziploc bag and cut off the tip of one side. First squit a large circle and form an x to connect the circle in the center. Make a smaller circle in the center and then with the rest of the dough. Make a zig-zag pattern on the outside and inside rings. Allow to cook until golden brown on the bottom and then turn over to continue the cooking process. Take out of the hot oil and sprinkle over with spices and chopped parsley.
Step 3/3
Mix ½ cup of butter, parsley, garlic powder, paprika, brown sugar, salt and lemon juice. Heat the oil and add the shrimp. Add the herbed butter and cook for 2-3 minutes on each side. Take your funnel cake and decorate with your cooked shrimp by adding to the top in circular shapes. Sprinkle with spices and lemon juice. Enjoy!