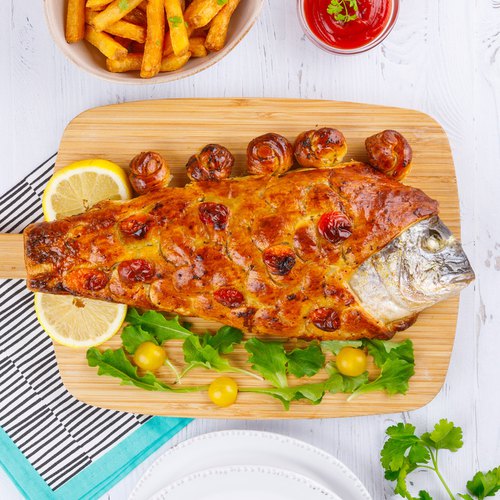 Efishent Garlic Bread
Efishent Garlic Bread! No need to fish for compliments after cooking up this recipe 😆🐟🍞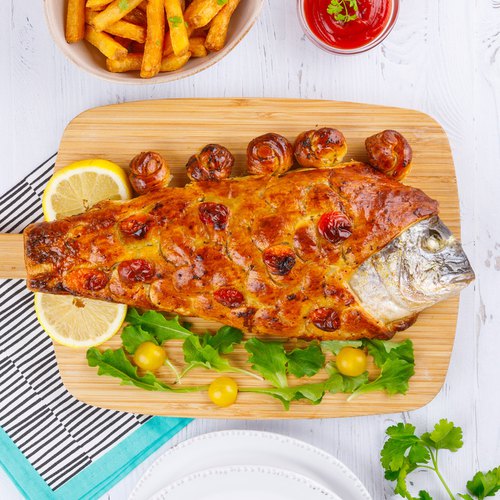 ---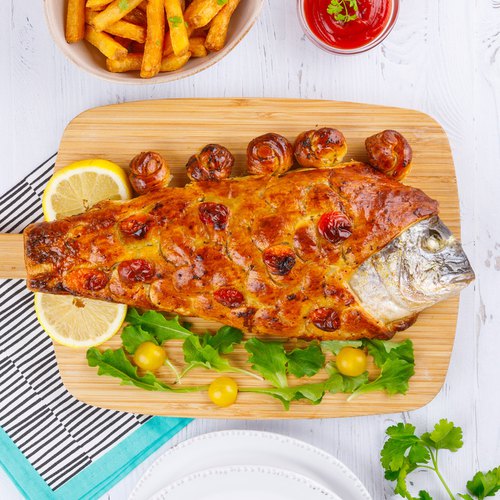 ---
Total time: 1 hour
Cook time: 1 hour
Ingredients for 4 people
1 white fish
15 cups of spinach
2 tbsp of cream cheese
1 roasted garlic
Salt & pepper
1 cup of parmesan
1 puff pastry
Egg wash
Parsley
1 cup of fries
1 tbsp of butter
1 tsp of garlic powder
1 shallots
---
Step 1/3
Take a fish and cut it down the back in order to open it. Remove the bones. Take a roasted garlic and mix with butter, salt and pepper. Score the inside of the fish and rub the butter mix inside.
Step 2/3
Cook the spinach on low heat. Add grated parmesan, cream cheese and shallots. Stuff the fish with the spinach.
Step 3/3
Take a puff pastry and wrap it around the fish. Cut a bottle cap in half. Use the half of the bottle cap to create marks on the puff pastry (to resemble fish scales). Cover in egg wash. Make garlic knots with some leftover dough and dip them in garlic butter with parsley. Bake fish and garlic knots for 25-30 minutes. Serve with fries and enjoy!