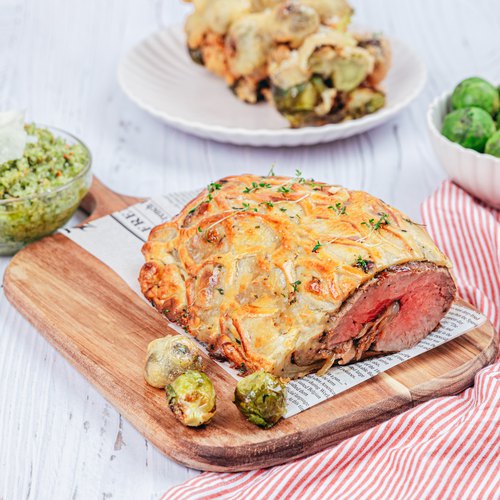 Cheese Stuffed Beef Wellington
Cheese Stuffed Beef Wellington! Served with deep-fried brussels sprouts 🤩🥩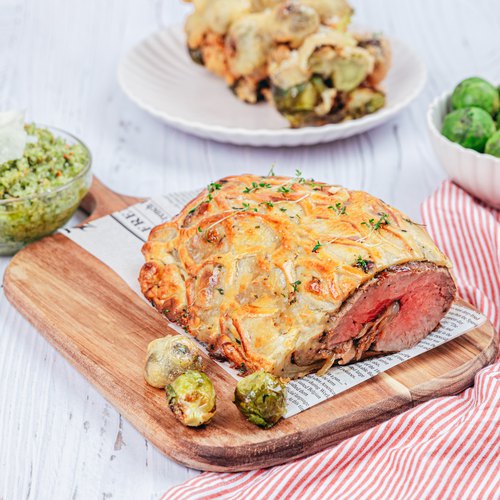 ---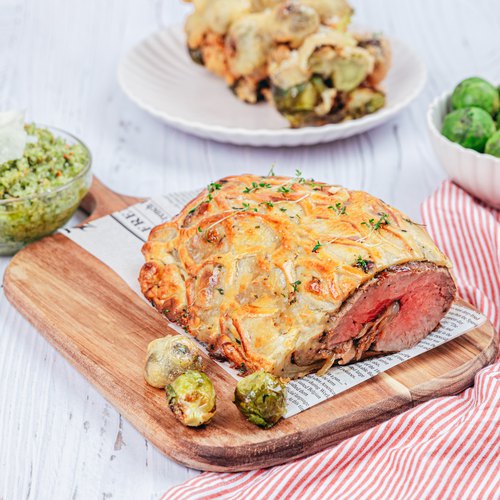 ---
Total time: 50 minutes
Cook time: 50 minutes
Ingredients for 4 people
Brussels sprouts
1 tsp of red pepper flakes
Olive oil
Basil
4 oz of pistachios
Lemon zest
1 tsp of honey
Salt & pepper
2 cups of water
2 cups of flour
3 oz of parmesan
1 egg
1 steak
Caramelized onions
1 pizza dough
Ricotta cheese
Mozzarella
Butter
Parsley
Roasted garlic
Pistachios
---
Step 1/4
Add ricotta, basil, roasted garlic in a food processor and pulse until smooth. Unroll the pizza dough and spread ricotta mixture evenly. Roll pizza dough up and then spiral it. roll the spiral into a circle Cut into a long strip.
Step 2/4
Cut a slit in the steak and fill with caramelised onions, mozzarella and then wrap garlic knot around it. Brush with melted butter and place in the oven. Baste with parsley butter within the last 10 mins of cooking. Bake until done.
Step 3/4
Blanch brussels sprouts for 15 minutes. Mix flour with water and 1 egg. Coat the burssels sprouts in the batter and fry until golden.
Step 4/4
Blanch brussels sprouts for 5 minutes and allow to cool. Put in the food processor with pistachios, crushed red pepper, parmesan cheese, basil and olive oil until smooth. Serve with the steak and fried brussels sprouts. Enjoy!