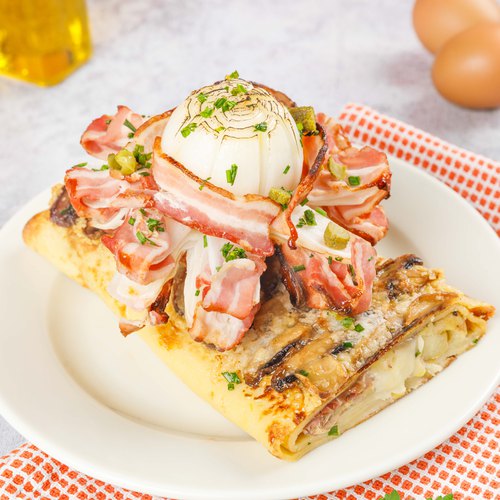 Ginormous Mushroom Crepe
Ginormous Mushroom Crepe! You will love this recipe so mush 🥰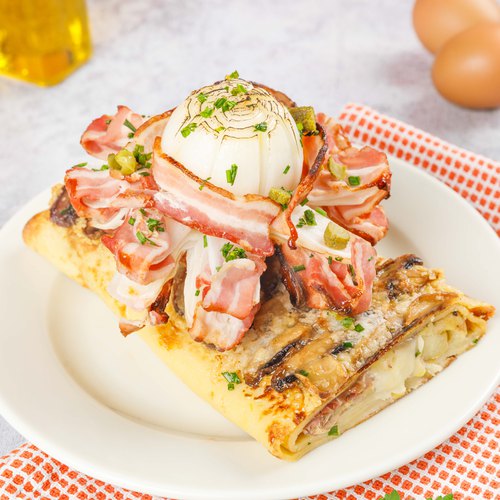 ---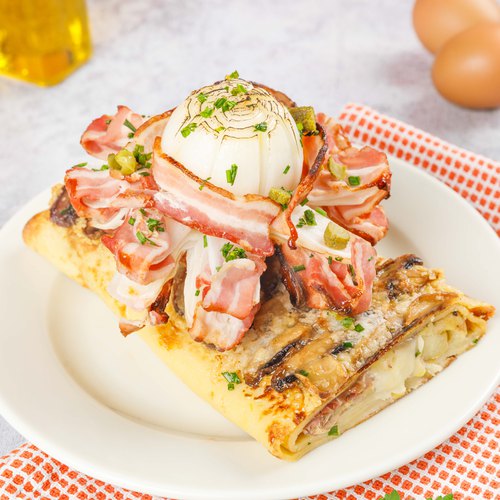 ---
Total time: 1 hour 30 minutes
Prep time: 40 minutes, Cook time: 20 minutes, Rest time: 30 minutes
Ingredients for 6 people
1 1/2 cups of flour
1 pinch of salt
1.9 cups of milk
4 egg
Garlic
2 tbsp of olive oil
7 oz of raclette cheese
2 tbsp of pepper
1 tbsp of cumin seeds
3/5 cup of fingerling potatoes
10 slices of ham
5 mushrooms
2 pickles
2 onions
10 slices of bacon
Chives
1 tbsp of herbes de provence
---
Tools
parchment paper
---
Step 1/4
Mix the flour, salt in a bowl and form a well. Add the eggs and mix gently until the batter thickens. Gradually pour in the milk, continuing to mix until you get a smooth batter. Allow to rest for 30 minutes in the fridge. Cook 3 crepes in a hot skillet.
Step 2/4
Cut the garlic halfway, pour a drizzle of olive oil then bake for 1 hour at 370°F. Cut 4 slices of raclette cheese, place a sheet of parchment paper on the griddle then place the slices of cheese on top. Sprinkle a slice of raclette cheese with pepper, another slice with herbes de provence and a final slice with cumin. Place the end of 3 crepes on the raclette cheeses, flatten the raclette cheeses then flip the crêpes with the raclette cheese.
Step 3/4
Cook the fingerling potatoes in boiling water then drain them. Place the potatoes on the grill, drizzle with olive oil, press the baked garlic on top, mash them then place them on the cheese strip. Place the ham on the potatoes then fold the crepes to form a roll.
Step 4/4
Cut the mushrooms and pickles into slices. Sprinkle the parmesan on the griddle to form a parmesan tuile. Place the mushrooms on the tuile, allow to cook then place the cheese and mushroom tuile on the crepe roll. Peel the onions, incise them 4 times without going all the way through to form a flower. Open the petals slightly then insert the slices of bacon. Place the onion flowers on a baking tray lined with parchment paper then bake for 20 minutes at 350°F. Place the crepe roll on a plate, place the onion flowers on top, sprinkle the chives and pickles. Serve and enjoy!