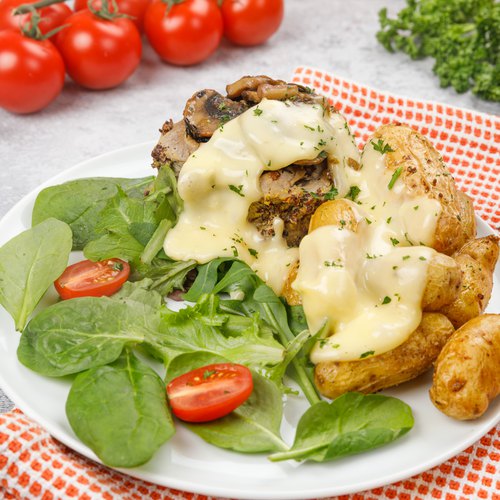 Hi-Steaks Winter Filet
Hi-Steaks Winter Filet! The steaks have been raised 😆🥩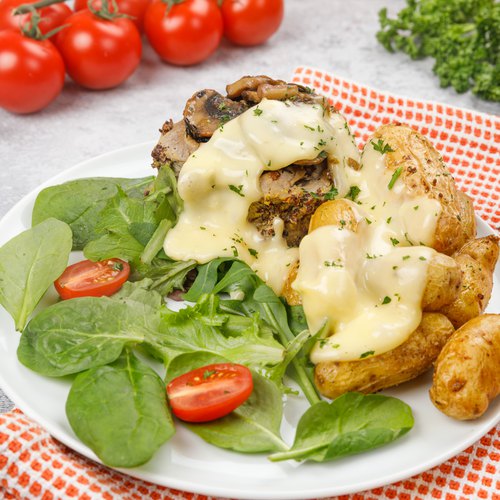 ---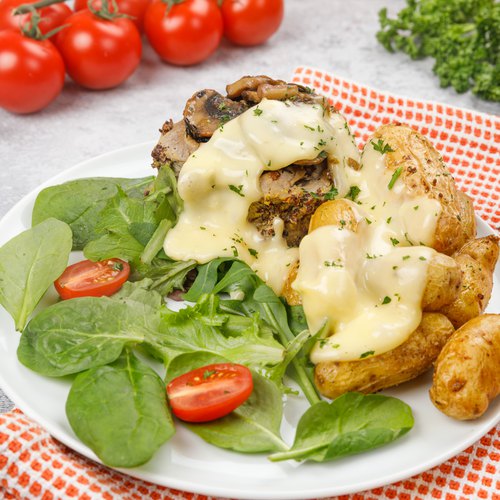 ---
Total time: 1 hour 10 minutes
Prep time: 40 minutes, Cook time: 30 minutes
Ingredients for 3 people
1 filet mignon
5 cloves garlic
1 3/5 cups of mushrooms
4 tbsp of brandy
3 1/2 tbsp of butter
2 onions
4 tbsp of olive oil
1 mont d'or cheese
1.1 lbs of baby potatoes
Rosemary
Thyme
Parsley
2 tbsp of mustard
White wine
---
Tools
Blowtorch
---
Step 1/3
Skewer the filet mignon on a knife, pour the brandy on the grill, flambé the meat then let it cook with the butter and garlic. Cut the onions into pieces and the mushrooms into slices. Smoke the butter and garlic over the meat with a blowtorch, add the thyme and rosemary on top, then cook the onion and the mushroom with a drizzle of olive oil. Sprinkle with parsley, salt and pepper then mix.
Step 2/3
Place the filet mignon on a cutting board, cut the filet in 3, turn over the filet mignon parts then skewer them on a wooden spoon. Roll them in then place them in a dish with the Mont d'Or. Garnish the filets mignons with the mushroom and onion mixture, draw a grid on the Mont d'Or, garnish with rosemary and garlic then pour the white wine. Place the potatoes in the dish, drizzle with olive oil, salt and pepper then bake for 30 minutes at 320°F.
Step 3/3
Arrange each filet mignon on a plate with potatoes, pour the melted Mont d'Or on top, sprinkle with parsley and enjoy!