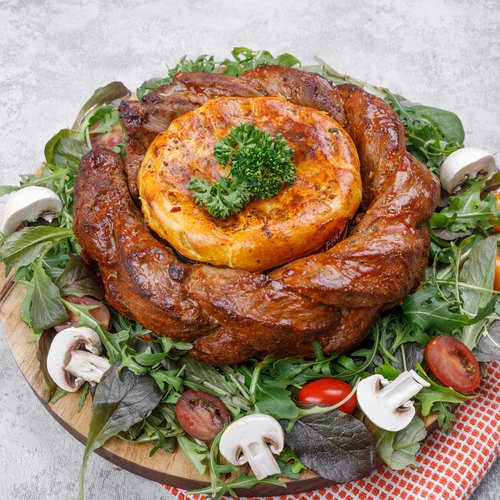 Regal Beef & Mushroom Braid
Regal Beef & Mushroom Braid! Time to meat up with another fantastic recipe 🤗🥩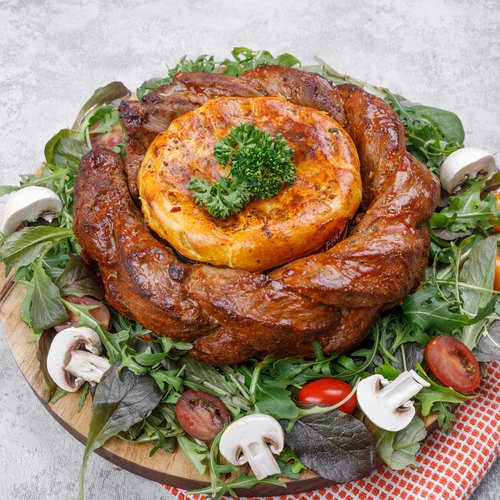 ---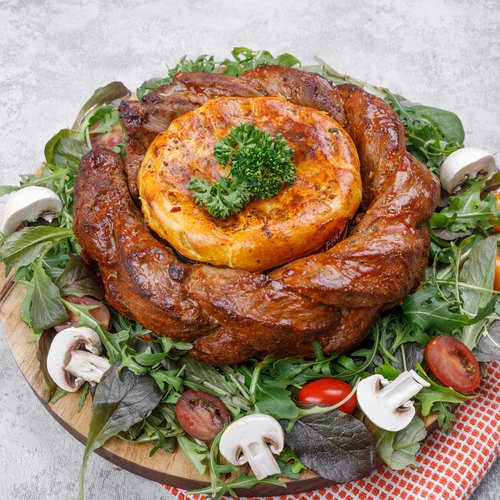 ---
Total time: 1 hour 13 minutes
Prep time: 40 minutes, Cook time: 33 minutes
Ingredients for 5 people
2.2 lbs of beef
5 tbsp of chefclub bbq spice mix
3 tbsp of butter
1 mont d'or cheese
4 cloves garlic
1 egg yolk
Thyme
2 mushrooms
2 shallots
0.4 cup of veal juice
Parsley
---
Tools
parchment paper
Skewers
---
Step 1/3
Cut the beef lengthwise into 3 strips without going all the way to the end, sprinkle one side with Chefclub barbecue spices, braid the beef strips then join the ends with a skewer. Place a bowl on a baking sheet lined with parchment paper, wrap the beef braid around the bowl, cut the butter into pieces then place it on the beef braid. Remove the bowl and bake for 15 minutes at 350°F.
Step 2/3
Cut a grid on the top of the Mont-d'Or, place the garlic and thyme in the interstices, place it on a puff pastry and cut out 2 circles of puff pastry. Prick one of the circles, make notches on the second then remove the excess dough from the puff pastry circles. Place the mont-d'or on a baking tray lined with parchment paper, place the puff pastry circles, overlapping them on top of the mont-d'or, then brush them with egg yolk and sprinkle with Chefclub bbq spices. Bake for 18 minutes at 350°F.
Step 3/3
Cut the mushrooms and the shallots into strips. Prepare a broth with 0.4 cups of water, the shallots, the mushrooms, the parsley and the veal juice, let it simmer for 5 minutes. Place the braided beef on a plate, place the mont-d'or in the center, place the parsley on the mont-d'or, pour the broth and enjoy!