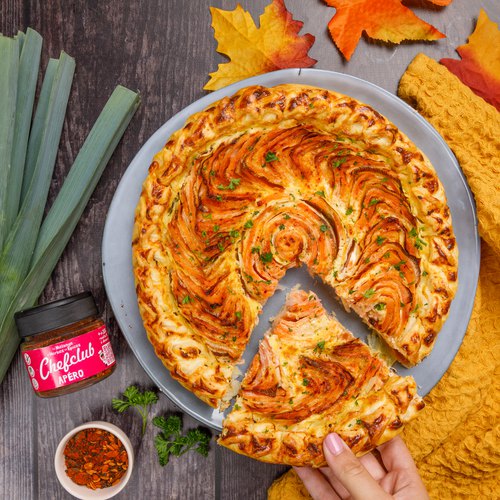 On Fleek Salmon Tart
On Fleek Salmon Tart! Anyfin goes with this recipe 😉🐟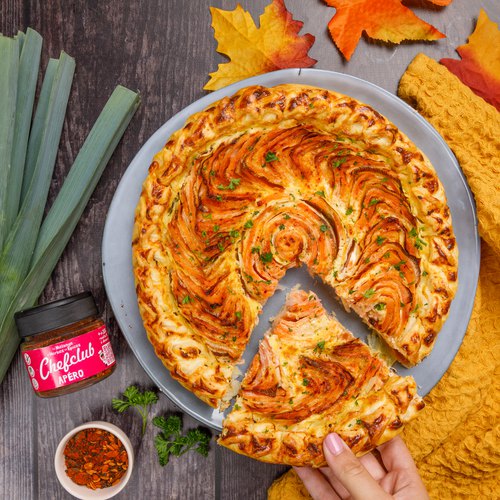 ---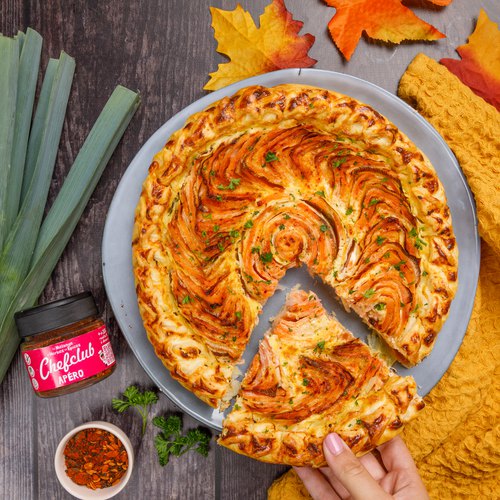 ---
Total time: 1 hour 10 minutes
Prep time: 35 minutes, Cook time: 35 minutes
Ingredients for 5 people
2 leeks
2 tbsp of olive oil
Chefclub vegetable seasoning
3 tbsp of sour cream
2 tbsp of butter
12 slices of smoked salmon
10 1/2 oz of goat cheese
Chefclub appetizer seasoning
1 puff pastry
Chives
---
Tools
Ziplock bag
---
Step 1/3
Shred 1 leek with a fork to form threads, dip the leek threads in the Chefclub Vegetable Spices, cut the threads into pieces and cook them in a pan with a drizzle of olive oil. Add the sour cream and butter then simmer for 10 minutes, stirring regularly.
Step 2/3
Incise the other leek lengthwise to remove each layer of white leek, overlap the strips of leeks and the slices of smoked salmon then roll the strips on themselves to form rolls. Cut the rolls into slices, mix the fresh goat cheese and the Chefclub appetizer spices. Pour the mixture into a ziplock bag then cut the lower corner. Form a circle of goat cheese mixture on the shortcrust pastry, brush water inside the circle then cover the cream cheese circle with the puff pastry. Slightly incise the entire edge of the dough to form spikes.
Step 3/3
Place the puff pastry on a baking tray lined with parchment paper, place the leek fondue in the centre. Arrange the salmon and leek slices on top, form a spiral by rolling up the rest of the salmon and leek strips then place it in the centre. Pour in the mixture, bake for 25 minutes at 350°F, sprinkle with chives and enjoy!