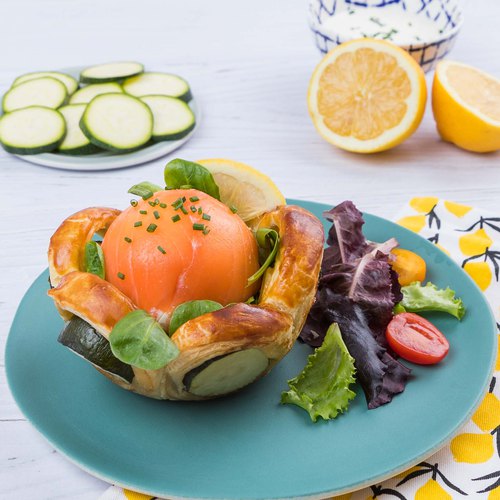 Smoked Salmon & Zucchini Bowl
Smoked Salmon & Zucchini Bowl! A light and refreshing dish 😊🥒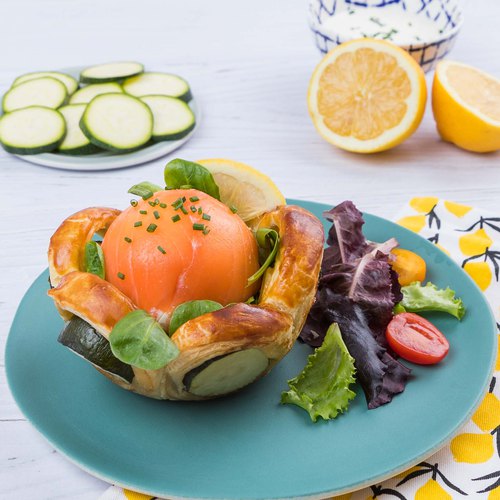 ---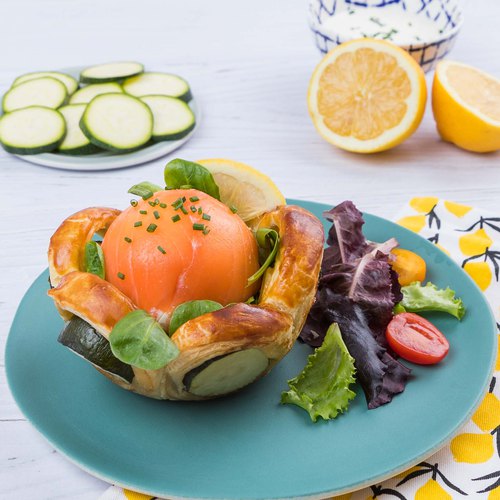 ---
Total time: 50 minutes
Prep time: 35 minutes, Cook time: 15 minutes
Ingredients for 3 people
1 zucchini
1 puff pastry
1 egg yolk
3 1/2 oz of cream cheese
1 lemon
3 smoked salmon
Lettuce
Chives
---
Tools
Cling wrap
---
Step 1/3
Cut the zucchini into 6 strips, cut the top and bottom end of a puff pastry, place 2 strips at the ends on the sides of the puff pastry and wrap the dough around the zucchini. Cut the puff pastry filled with zucchini into strips, line a dish with the strips of puff pastry and zucchini, brush with egg yolk and place on a baking sheet. Repeat the process to have 3 and bake for 15 minutes at 365°F.
Step 2/3
Cut the rest of the zucchini into pieces, cook them in a hot pan. Mix the cream cheese, chives, cooked zucchini, lemon juice to obtain a smooth mixture. Line the bottom of a cup with cling wrap, place the salmon, place the cream cheese and zucchini mixture in the centre, fold the salmon then fold the cling wrap to form a dome. Repeat the process to get 3.
Step 3/3
Arrange the puff pastry shell on a plate, place the lettuce and the salmon dome in the center, sprinkle with chives and enjoy!